There are many advantages to using the PWG-plus gripper
The PWG-plus is compact and robust due to the oval piston drive, the strong aluminum housing, and the almost wear-free T-bar drive. Depending on the application, it can also be equipped with an ID/OD spring safety device. Numerous accessories are available, including inductive proximity sensors and magnetic sensors.

The PWG-plus gripper jaws and gripper mounting holes are capable of mounting directly to certain SCHUNK compensation units, attachment valves, and quick-change jaw systems.
There are many advantages to using the PWG-plus gripper, including the design of outrigger workpiece supports due to threaded connections and centering sleeve options. There are also a variety of gripper sizes and gripping torques.
About SCHUNK:
SCHUNK is the worldwide competence leader for clamping technology and gripping systems. Totaling more than 60 years of experience, SCHUNK is a family owned operation and a global player in one. For more information, visit www.schunk.com
Featured Product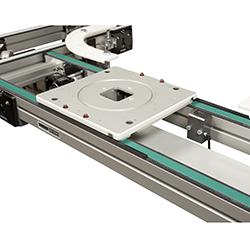 Dorner's 2200 Series Precision Move Pallet Systems feature the latest advancements in pallet traffic management. A unique pin tracking system guides pallets through merges and curves while maintaining product orientation. The fast belt change capability increases efficiency and reduces downtime in assembly automation processes. They are available in lengths up to 25 ft., can handle loads up to 500 lbs. and travel at speeds up to 114 ft/min.