Ekso Bionics Holdings, Inc., a leading global robotic exoskeleton company, announced today it acquired the gravity balancing arm technologies of Equipois, LLC, including the zeroG and X-Ar products.
The all-stock transaction is a strategic acquisition for Ekso Bionics that is intended to expand the company's exoskeleton capabilities in the industrial market.

The patented technology behind the Equipois products enables workers to maneuver tools and other objects as if weightless. Some of the world's largest companies in aerospace, defense, automotive, heavy machinery, and other manufacturing industries are using this technology to enhance human performance and safety.
"Our ongoing field trials throughout this past year have clearly shown that now is the time to bring our exoskeleton technology to the industrial construction market. Companies are ready for exoskeletons, and their workers are eager to use them," said Russ Angold, president of Ekso Labs and co-founder of Ekso Bionics. "Adding the Equipois product portfolio provides us with core technology to meet customer demand and immediately expands our customer reach from construction to industrial and manufacturing end-users as well."
"It's exciting to see our technology go from helping people shoot movies to making peoples' lives better on the job site by helping to reduce fatigue, protect from injuries and increase productivity," said Garrett Brown, inventor of the Steadicam camera stabilizer as well as the technology incorporated into the Equipois arms. "It's wonderful to see Ekso Bionics bringing their exoskeleton technology into the industrial construction market for able-bodied workers, much as they've already done for patients in medical rehabilitation. I'm excited to be a part of this new success."
Building on their installed base of over 600 units, Equipois has entered into supply and reseller arrangements with Ekso Bionics under which it will continue to sell the zero G and X-Ar products to their current manufacturing customers while Ekso Bionics will expand gravity balancing arm technology into industrial construction programs for human augmentation solutions.
"We definitely see this as the whole being greater than the sum of the parts," said John Allard, chief executive officer of the Allard Nazarian Group, the parent corporation of Equipois. "We are excited to be shareholders in such an innovative company that is taking human augmentation technology to the next level and into a market with such promising opportunity."
http://www.eksobionics.com/
Featured Product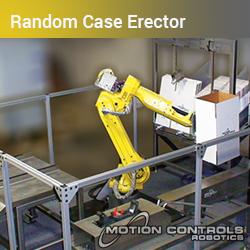 Random Case Erectors are ideal for fulfillment centers and other end-of-line packaging needs. Save money by eliminating changeover downtime. Reduce ergonomic injuries by eliminating repetitive manual tasks. The Random Robotic Case Erector System includes: • FANUC M20iA/20 Robot • Combi gravity case magazine - holds 2 box sizes • Combi bottom flap folder with integrated 3M case sealing head. • Fixed robot base, anchored to the floor • Flexible end of arm tool to pick and erect multiple case sizes to eliminate changeover downtime • System wiring and controls • Color 7.5" touchscreen HMI display for selecting case size • Perimeter guarding with safety interlocks on doors • Programming for Robot, PLC/PMC, HMI and Vision • Complete documentation in electronic format • On-site training and support • Compliance with all applicable robotic safety standards. Alternate safety configuration may be available to allow an operator to changeover a case size in one magazine while the robot continues to work in other magazines. Contact Motion Controls Robotics to learn more about how to implement this system into your current end-of-line operations.