Teledyne DALSA, a Teledyne Technologies company and global leader in machine vision technology, today announced the introduction of 9 new Genie Nano area cameras. Built around ON Semiconductor's Python CMOS image sensors, these latest models deliver fast frame rates in a small, robust body, and are ideal for an ever-growing number of vision applications.
Available in three resolutions, including 640 x 480 (running up to 850 frames per second in VGA), 800 x 600 and 1280 x 1024 pixels, in monochrome, color and near infrared (NIR), these nine new models complement a growing family of fast, cost-effective area cameras built around a fully optimized camera platform and are well suited for machine vision applications that require high speed.

Key Features:
* TurboDrive for fast frame rates and full image quality
* * Trigger-to-Image-Reliability for easy system control and debugging
* Small footprint for tight spaces - 44mm x 29mm x 21mm
* Wide temperature range (-20 to 60°C) housing for imaging in harsh environments
* 2 inputs/2 opto-coupled outputs for easy integration and deployment
* Light weight - only 46 grams
"These newest Genie Nano models are built for speed," said Manny Romero, Senior Product Manager for Teledyne DALSA. "TurboDrive makes them the fastest GigE cameras available. The series overall is designed to meet the needs of a growing number of vision applications. We're committed to providing fast, high value cameras that offer customers flexibility, performance and low cost."
Genie Nano cameras feature a robust design backed by a 3-year warranty and are suitable for a wide range of applications including intelligent traffic systems (ITS), entertainment, medical, food and beverage inspection, and electronics and printed circuit board (PCB) inspection, among many others. Please visit the Genie Nano product page for more information. For sales enquiries, visit our contact page, and for full resolution images, our online media kit.
About Teledyne DALSA's Machine Vision Products and Services
Teledyne DALSA is a world leader in the design, manufacture and deployment of digital imaging components for the machine vision market. Teledyne DALSA image sensors, cameras, smart cameras, frame grabbers, software, and vision solutions are used in thousands of automated inspection systems around the world and across multiple industries including semiconductor, solar cell, flat panel display, electronics, automotive, medical, packaging and general manufacturing. For more information, visit www.teledynedalsa.com/imaging.
About Teledyne DALSA, Inc.
Teledyne DALSA, a Teledyne Technologies company, is an international leader in high performance digital imaging and semiconductors with approximately 1,000 employees worldwide, headquartered in Waterloo, Ontario, Canada. Established in 1980, the company designs, develops, manufactures and markets digital imaging products and solutions, in addition to providing specialized semiconductor products and services including MEMS. For more information, visit Teledyne DALSA's website at www.teledynedalsa.com.
Featured Product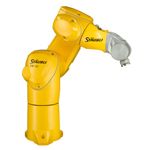 Stäubli offers a complete range of robotic tool changing systems for payloads of 20 kg to 1,530 kg and torsion moments from 30 to 12,500 Nm, designed for use in virtually every industry. The tool changers adapt to customer-specific applications with different modules for media, data, power, etc. The new MPS 130 robotic tool changer is powerful, very robust, and designed for a huge range of applications. It features multiple couplings for air/vacuum connections, and can be equipped with connectors for data and electrical transmission. Very compact dimensions, with a coupled height of only 67 mm, make the MPS 130 the first choice for applications requiring a high number of mating cycles.