At the IAAPA in Orlando/Florida, KUKA presented the latest generation of the KUKA Coaster
Rapid acceleration, wild rotations and amazing inverted figures: a ride on the KUKA Coaster is surprisingly different every time and ensures maximum adrenaline and fun. KUKA unveiled the innovative ride to the world for the first time at the 2002 Hannover Messe Industrie. At this year's IAAPA Attractions Expo, the world's largest trade show for amusement parks and rides, held in Orlando, Florida the Augsburg-based robot and system builder presented the latest generation of the robot-based ride.

Carnival ride based on an industrial robot
The KUKA Coaster is a six-axis industrial robot with a gondola for two people mounted on its arm. It offers the passenger freely programmable motion combinations, guaranteeing high-speed action rides consisting of wild rotations, daring loop-the-loops and spectacular swivel motions. The passenger never knows what to expect next. This is because unlike a conventional roller coaster, where the layout of the track hints at the next motions of the carriage, the KUKA Coaster constantly surprises its passengers with new, unexpected twists and turns. The six degrees of freedom of the robot enable maximum maneuverability and a three-dimensional ride experience. Surrounded by an appropriately themed setting and reinforced by sound and light effects, the KUKA Coaster has been the crowd-puller in theme parks, family entertainment centers and large amusement parks for many years now. KUKA was able to supply more than 50 systems of the old generation worldwide. Now it is time for the successor.
Simple access and new gondolas to the KUKA Coaster
The new generation of the KUKA Coaster enables simple access at ground level without the need for ramps or steps. Furthermore, KUKA will be exhibiting a new two-seater gondola at the IAAPA Expo, equipped with an additional protective function for the passengers' feet. The structural changes required on site for the new generation are limited to the essential technical elements, however. The KUKA Coaster is controlled using a new operator panel with a touch screen.
Safety writ large in the KUKA Coaster
For all the fun of the ride, it is reassuring to know that the KUKA Coaster is the first robot licensed to carry passengers, being certified by the German technical inspectorate TÜV as conforming to EN 13814 (DIN 4112) and thus to the relevant safety standards. This is the result of a reliable design and production technology that has proven its worth all over the world. Its structural components and gear units are 100% certified. Mechanical stops and continuous electronic monitoring provide added safety. The latest generation of the service-proven KUKA Safe Operation technology package is used in the KUKA Coaster, thereby ensuring absolute safety. There is thus no reason to put off an exciting ride in what must surely be considered one of the most innovative amusement rides.
http://www.kuka.com/
Featured Product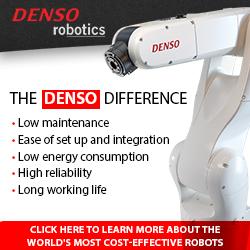 DENSO is the world's largest manufacturer - and user - of small assembly robots, employing over 17,000 of its robots in its own facilities. Over 77,000 additional DENSO robots are used by other companies worldwide. The compact, high-speed robots are used in traditional manufacturing sectors, as well as in advanced-technology applications in the medical, pharmaceutical and life sciences industries. Learn more about DENSO Robotics