igus has developed a lightweight and effective retraction system for feeding tubes for rivets and screws on industrial high-speed assembly robots.
Called triflex RSE, the new system prevents looping of the energy chain as it moves, preventing tube blockages from occurring which may ultimately lead to unplanned and costly machine downtime.

"Industrial robots no longer just require electrical and pneumatic lines, but often have feed hoses for bolts, rivets or screws," said Justin Leonard, director, igus. "When robotic arms are moving at high speeds, tight bends or hanging loops can sometimes cause problems; if the energy chain falls below the minimum permissible bending radius of the supply hoses the worst case scenario is that a rivet or screw may get stuck, which then leads to a plant standstill."
Through its smooth, linear travel, the triflex RSE retraction system offers an efficient and cost-effective solution that requires no spring rods or deflecting rollers. The lightweight system is based on the proven and maintenance-free drylin linear guide, which transports the chain for travels of up to 600mm - heavy-duty elastic bands pull the extended chain back automatically to prevent loops forming.
The retraction system is designed for closed or openable triflex R energy chain models TRC, TRE and TRCF, and are available in a range of sizes measuring from 60 to 125mm in diameter. They are locked by means of a connecting element and a linear slide, which in turn can be connected by adjustable fastening plates to integrate with a variety of robot types.
"Because the triflex RSE enables the energy chain to connect directly to the robot, no unnecessary loops are needed, which reduces chain length," added Justin Leonard. "For this reason, triflex RSE is not only space-saving and light, but also a cost-effective solution."
For further information about the triflex RSE retraction system, please visit here or call igus directly on 01604 677240.
Featured Product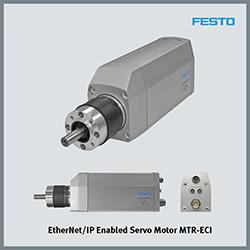 Mechatronic Motion Solutions from Festo is a unique system of components, modules, and software. It integrates all types of pneumatic, servopneumatic and (electro)mechanical automation motion and combines them according to your task. Irrespective of the control system environment you use, Mechatronic Motion Solutions always provides the appropriate interfaces. The fingers can be actively moved and their strength amplified; the operator's hand movements are registered and transmitted to the robotic hand in real time. The objectives are to enhance the strength and endurance of the human hand, to extend humans' scope of action and to secure them an independent lifestyle even at an advanced age.