Convention will also showcase Toyota's next-generation framework for connected vehicles
TORRANCE, Calif.--(BUSINESS WIRE)--Toyota will announce new details on its plans for research leveraging artificial intelligence at the 2016 Consumer Electronics Show in Las Vegas, Nevada.

On Tuesday, January 5, 2016, the company will hold a press conference at the Mandalay Bay Convention Center featuring Dr. Gill Pratt, Toyota Executive Technical Advisor and Chief Executive Officer of the Toyota Research Institute (TRI), as well as other senior TRI leaders.
First announced at a press conference in November, the Toyota Research Institute (TRI) is a research and development enterprise focused on artificial intelligence for automobiles, robotics, and scientific discovery. Funded by an initial commitment of $1 billion over the next five years, TRI will help bridge the gap between fundamental research and product development.
Separately, CES 2016 will also showcase Toyota's next-generation framework for connected vehicle and telematics systems.
In addition to the press conference, Dr. Pratt, senior TRI leaders, and other Toyota executives will be available for select one-on-one and roundtable media interviews at the convention.
WHAT:
Press conference on Toyota artificial intelligence
WHERE:
CES 2016
Mandalay Bay
North CC, Level 1, Islander A, B, F, G
WHEN:
Tuesday, January 5, 2016 at 1:00 PM PT
Interested media wishing to schedule an interview with Toyota executives at the 2016 Consumer Electronics Show should contact Elizabeth Winter at ewinter@golin.com or Rebecca Lee at rlee@golin.com.
About Toyota
Toyota (NYSE:TM), the world's top automaker and creator of the Prius and the Mirai fuel cell vehicle, is committed to building vehicles for the way people live through our Toyota, Lexus and Scion brands. Over the past 50 years, we've built more than 30 million cars and trucks in North America, where we operate 14 manufacturing plants (10 in the U.S.) and directly employ more than 42,000 people (more than 33,000 in the U.S.). Our 1,800 North American dealerships (1,500 in the U.S.) sold more than 2.67 million cars and trucks (more than 2.35 million in the U.S.) in 2014 - and about 80 percent of all Toyota vehicles sold over the past 20 years are still on the road today.
Featured Product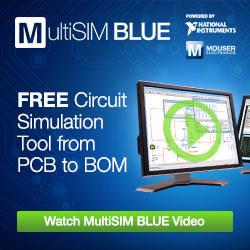 Powered by NI, MultiSIM BLUE Upgrade includes schematic capture, simulation, PCB layout, BOM-to-cart capabilities using only one tool. No more switching between different programs for circuit design. Perform MCU co-simulation. New voltage, current and power probes as well as faster active analysis mode are also available. Plus, it even comes with an expansive database of new components from industry-leading manufacturers. Discover why EDN named MultiSIM BLUE a HOT 100 Product of the Year.