Spartan puts affordable robot into the hands of students from middle school through college level
MIAMI, FL — (January 8, 2016) — Modern Robotics Inc. today provided an exciting glimpse into the

future of collaborative robotics with the introduction of Spartan™, a robotics base kit that allows users
to build and program a very capable and complete robot.
The Spartan Robot kit includes the powerful Core Spartan Controller, two Optical Distance Sensors, one Touch Sensor, one Program Control Button, two motors, two wheels with rubber tread, a caster wheel, rechargeable battery, battery charger, building components, and the tools to put it all together. The programming tools, specialized Spartan programming libraries and software needed to create an
Arduino development environment can be found at Modernroboticsinc.com/spartan.
With a mission to get an affordable robot into the hands of students and teach programming concepts
from middle school through the university level, Modern Robotics gave Spartan a Core Controller with
26 motor, servo and sensor ports, allowing programs to interact with the robot's environment. Coupled with the versatile MATRIX building system, Spartan can complete endless challenges.
Spartan is a significant addition to the company's smart, collaborative product line, which features a
wide collection of electronic products used for educational and hobby robotics.
Modern Robotics fuses emerging hardware technology with the latest innovations in robotics, allowing
students, hobbyists and those curious about science and technology the opportunity to build and
operate their own robotics systems. The product line is suitable for both competition and educational
robotic programs.
"Spartan offers an exciting platform for both educators and students to learn about robotics; it also
helps motivate kids to learn math, science and technology integrated with engineering," said Stephen
Barker, CEO and co-founder of Modern Robotics, Inc.
Spartan retails for $195 at ModernRoboticsInc.com. Suggested age for Spartan is 14 and up.
For more information, or to schedule an interview, call 954.651.1346. The company website is
www.modernroboticsinc.com.
Featured Product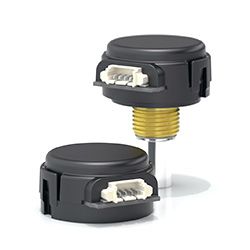 US Digital is pleased to announce the launch of the E4T, their latest series of miniature high performance optical encoders. The E4T series delivers a marked performance increase over similar encoder models and designed to be an enhanced replacement for the E4P encoder series. The E4T utilizes state of the art transmissive optical sensing technology, and incorporates US Digital's own proprietary OptoASIC. Assembly of the E4T is simple and efficient and retains the previous E4P's form factor. Key features of the new E4T include: • Mechanically and Electrically Interchangeable with E4P • Improved Quadrature Signal Strength • 100 kHz Frequency Response • Transmissive Optical Design • Collet Style Push on Optical Disk Design (Patent Pending) • Simple & Efficient Assembly Process As with all of our products the E4T is designed and manufactured in their Vancouver, Washington USA facility and is available for purchase as of December 2014.