Marian Inc. will exhibit at the MD&M West Trade Show in Anaheim, CA February 9th through February 11th 2016 in booth #3444.
"This will be Marian's second consecutive year exhibiting at MD&M West," says Bill Witchger, CEO of Marian. "We recognize our ability to connect with leading companies in the medical industry and strive to continue building on those relationships while creating new connections at MD&M West 2016."

Marian plans to showcase a variety of medical solutions that visitors can personally touch and feel including: skin contact adhesive components, diagnostic test strip components, surgical tapes, cosmeceutical pads, transdermal drug delivery, and medical device components (shields, gaskets, filters).
"The perfect solution for your application," says Witchger, "starts with the right material combined with our innovative and unique capabilities."
Marian engineers and sales associates have the most extensive material knowledge in the industry. They are familiar with hundreds of materials ranging from silicone gel PSAs to medical grade fabrics, urethanes, sponges and foams, and silicone elastomers from material suppliers such as Polymer Science, 3M, and Rogers Corporation. Allow Marian sales engineers to work with you in pairing these materials with our innovative capabilities such as precision slitting, rotary die cutting, rapid laser prototyping, and in-line heat and cold-seal packaging. Marian has a stringent quality system required for the medical device industry, including ISO 9001:2008 and ISO 13485 certification and cGMP compliance. Marian is FDA registered as a medical device and OTC drug manufacturer and packager.
Visit Marian at booth #3444 at the MD&M West 2016 in Anaheim, CA.
Featured Product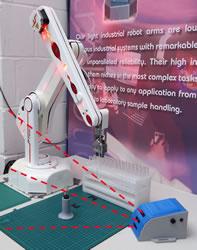 ST Robotics have decades of experience in industrial robots having sold hundreds of robots over the years. The company has 3 main models, R12, R17 and R19 all using a unique simple industrial technology that dramatically reduces costs resulting in the lowest priced industrial robots available. The same uncomplicated technology vastly improves reliability. ST backs this up with a 2 year warranty. Typical applications are routine testing, sample handling and also education. The software is a different paradigm from most robots. It is command based; you type a command and see immediate action. Programming is a building block approach, building confidence as you program in small 'mind-sized bytes'. ST offers free unlimited technical support.