Agricultural Applications Boost Market, But Delivery Deployments Raise Safety Fears
Hampshire, UK: 18th January 2016: A new study from Juniper Research has found that annual revenues from commercial drones sales are expected to reach $481 million this year, up by 84% on last year's figure of $261 million.

The new research - Drones: Consumer & Commercial Applications, Regulations & Opportunities 2015-2020, - found that a low price point had significantly reduced the barrier to entry in many sectors, with high performance models now available for less than $3,000. It claimed that the reduction in drone price points had in turn resulted in their commercial application within an array of new fields including mapping, inspection and monitoring.
Agriculture to Lead Growth
The research argued that the strongest growth would occur within the agricultural sector, which Juniper expects to account for 48% of all commercial drone sales this year. Here, UAVs (Unmanned Aerial Vehicles) help save time and costs over other methods, such as walking fields on foot and using planes for fly-over filming. Furthermore, the ease of use of a UAV created for the sector allows for more regular crop surveying.
Meanwhile, the research also found that demand for UAVs in the film and television sectors is soaring. Drones provide a much cheaper and more flexible alternative to the use of helicopters and other methods to capture footage for the film and TV industry, particularly for action sequences.
Delivery Drones Pose Safety Hazard
However, the research cautioned that a raft of privacy, safety and security concerns mean that the usage of drones for delivery purposes is likely to be severely constrained or even prohibited within built-up areas.
According to research co-author Dr Windsor Holden, regulators would be extremely wary of allowing planned services such as Amazon Prime Air and Google's Project Wing to be offered except as a means of delivering to isolated rural communities. "Regulators are understandably concerned that the deployment of delivery drones in inner cities would significantly increase the risk of potentially fatal collisions with cars or even pedestrians," Holden warned.
The Terrorist Threat
The research also claimed that there was a danger that delivery drones could be hacked by terrorists, conceivably delivering an explosives payload into areas where they would be capable of causing high levels of civilian casualties.
The whitepaper, 'Game of Drones', is available to download from the Juniper website together with further details of the full research and the attendant Interactive Forecast Excel (IFxl).
Juniper Research provides research and analytical services to the global hi-tech communications sector, providing consultancy, analyst reports and industry commentary.
Featured Product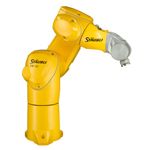 Stäubli offers a complete range of robotic tool changing systems for payloads of 20 kg to 1,530 kg and torsion moments from 30 to 12,500 Nm, designed for use in virtually every industry. The tool changers adapt to customer-specific applications with different modules for media, data, power, etc. The new MPS 130 robotic tool changer is powerful, very robust, and designed for a huge range of applications. It features multiple couplings for air/vacuum connections, and can be equipped with connectors for data and electrical transmission. Very compact dimensions, with a coupled height of only 67 mm, make the MPS 130 the first choice for applications requiring a high number of mating cycles.