Investors include Experts from the Food and Tech Industries
Casabots, a leader in robots for restaurants and commercial kitchens, today announced the completion of its angel round of funding. The company has been selected to participate in the Techstars Austin program which launches this week.

The 90-day Techstars acceleration program was designed for startups that exhibit a high-potential for success. Techstars accepts less than 1% of the startups who apply. Those accepted receive a $100,000 investment from Star Power Partners, a syndicate of venture capital firms. On average, Techstars companies go on to raise $1 million or more in additional funding. Only 10% of 762 Techstars companies have failed, compared with 90% failure rates for typical startups.
Said Amos Schwartzfarb, Managing Director of Techstars Austin, "It seems like an obvious evolution that restaurants, and other commercial kitchen types, will use robotics in the near future. Casabots has some really exciting technology in the space and has built prototypes that make quality food and also address sanitary challenges. We're excited to welcome them into the Techstars family."
Casabots was founded by Dr. Deepak Sekar, an inventor with more than one hundred patents, who previously served as a Director at Rambus and Chief Scientist at MonolithIC 3D. Rich Page, an Apple Fellow who co-founded NeXT Computer with Steve Jobs, serves as the Executive Chairman of Casabots. Brian Richardson, a pioneer of robotic lighting, is the Chief Scientist and Board Director.
Cosme Fagundo, an owner of 15 McDonald's restaurants and an investor in Casabots said, "The idea behind Casabots' first product is a brilliant one. It has the potential to make a big impact on the fast food industry."
Casabots has working prototypes and plans to leverage the angel funding to launch its first product in 2016. Casabots has nine patents pending.
About Casabots
Casabots is a leader in robotics for food preparation. The company is targeting restaurants and other food businesses with its products. Casabots' patent-pending ingredient store and delivery system automates food preparation while providing high quality, hygienic food and low cost of ownership. For more information visit http://www.casabots.com.
Featured Product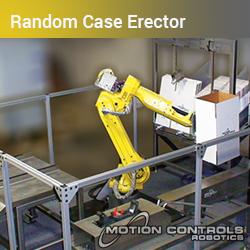 Random Case Erectors are ideal for fulfillment centers and other end-of-line packaging needs. Save money by eliminating changeover downtime. Reduce ergonomic injuries by eliminating repetitive manual tasks. The Random Robotic Case Erector System includes: • FANUC M20iA/20 Robot • Combi gravity case magazine - holds 2 box sizes • Combi bottom flap folder with integrated 3M case sealing head. • Fixed robot base, anchored to the floor • Flexible end of arm tool to pick and erect multiple case sizes to eliminate changeover downtime • System wiring and controls • Color 7.5" touchscreen HMI display for selecting case size • Perimeter guarding with safety interlocks on doors • Programming for Robot, PLC/PMC, HMI and Vision • Complete documentation in electronic format • On-site training and support • Compliance with all applicable robotic safety standards. Alternate safety configuration may be available to allow an operator to changeover a case size in one magazine while the robot continues to work in other magazines. Contact Motion Controls Robotics to learn more about how to implement this system into your current end-of-line operations.