The E-727 controller integrates a wide range of piezo-based nanopositioning products and piezo actuators.
PI (Physik Instrumente) L.P., an industry leader in precision motion components, systems, and solutions, has released a new, high-performance 3 and 4-channel digital piezo controller that integrates with a wide range of existing piezo-based nanpositioning systems and piezo actuators.

Lower Price, Higher Performance
The new E-727 replaces the E-725 controller and combines higher performance with a lower price. Compared to its predecessor, it provides 3 additional high-resolution analog interfaces, a faster servo, as well as a broader choice of traditional, high-speed, and real time digital interfaces, such as SPI, Ethernet, USB and RS-232
Ultra-Low Noise Controller
20-bit DAC & ADC converters keep the closed-loop E-727 controller operating with high resolution and ultra-low noise, along with 4 integrated power amplifiers for multilayer piezo drives with operating voltage of -30 to +130V. Closed-loop nanopositioning systems are supported with capacitive feedback sensors, piezoresistive sensors, and traditional strain gauges. In addition to PID control, 2 additional user programmable notch filters are implemented for suppression of mechanical system resonances. Linearization based on 4th order polynomials provides higher positioning accuracy. The Dynamic Digital Linearization (DDL) feature eliminates non-linearities at high operating frequencies.
Data Recorder, Auto-Calibration ID Chip, Quick Start UP, Comprehensive Software Package
The cost-effective E-727 has a data recorder for high speed tracing, ID chip compatibility for quick start-up, and exchange of system components without recalibration, and the additional feature of programmable drift compensation. The controller comes with extensive software support for LabVIEW and shared libraries for Windows and Linux. Multiple digital interfaces for ease of control: Ethernet, USB, RS-232, SPI. Four (4) digital I/O channels as well as four (4) high-resolution analog inputs and outputs each are also available for use with external sensors, target values or external amplifiers.
Specifications, Datasheet, More Information >
Applications of the E-727
Applications include nanopositioning, nano-automation, semiconductor technology, photonics, bio-nano-technology, metrology, microscopy, micro-manipulation, including cleanroom applications.
Features & Advantages
Digital Servo for Advanced Control Algorithms
25 kHz Control Bandwidth
For Capacitive and Piezo-restive Strain Gauge Feedback Sensors
High Resolution Analog Control Inputs and Outputs
Interfaces: Ethernet, USB, and RS-232
Digital Inputs and Outputs
DSP 32/64-bit Floating Point, 375 MHz
20-bit DAC and ADC Resolution
ID Chip Compatible for Interchangeability of Controller and Mechanics
4th Order Polynomial Linearization for Mechanics & Electronics
Featured Product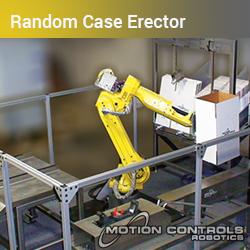 Random Case Erectors are ideal for fulfillment centers and other end-of-line packaging needs. Save money by eliminating changeover downtime. Reduce ergonomic injuries by eliminating repetitive manual tasks. The Random Robotic Case Erector System includes: • FANUC M20iA/20 Robot • Combi gravity case magazine - holds 2 box sizes • Combi bottom flap folder with integrated 3M case sealing head. • Fixed robot base, anchored to the floor • Flexible end of arm tool to pick and erect multiple case sizes to eliminate changeover downtime • System wiring and controls • Color 7.5" touchscreen HMI display for selecting case size • Perimeter guarding with safety interlocks on doors • Programming for Robot, PLC/PMC, HMI and Vision • Complete documentation in electronic format • On-site training and support • Compliance with all applicable robotic safety standards. Alternate safety configuration may be available to allow an operator to changeover a case size in one magazine while the robot continues to work in other magazines. Contact Motion Controls Robotics to learn more about how to implement this system into your current end-of-line operations.