Panelists from Uber, Seegrid, Carnegie Robotics and Coal Hill Ventures
PITTSBURGH, March 2, 2016 /PRNewswire/ -- On Tuesday, March 29, MIT Enterprise Forum Pittsburgh (MITEF Pittsburgh) will host Pittsburgh Presents Robotics: Why the World Is Watching. The event is expected to attract more than 150 leaders from Pittsburgh's academic, research, business and investor communities.

"Our vision," says John Whitehill, Chairman of MITEF Pittsburgh, "is to help create an entrepreneurial ecosystem in Pittsburgh that is both collaborative and comprehensive. The robotics event contributes to that goal by bringing together some of the world's most-accomplished robotics experts to share their insights on innovation, investment opportunities and commercialization."
Panelists will include John Bares, Director of the Uber Advanced Technology Center, Jim Rock, CEO of Seegrid, Steve DiAntonio, CEO of Carnegie Robotics, and Chris Moehle, Managing Director of Coal Hill Ventures.
David Kalson, Chair of Cohen & Grigsby's Emerging Business Group, will act as moderator. "This event," he says, "will showcase why the global community views Pittsburgh as the epicenter of robotics innovation."
Industry experts agree that the R&D focus of local universities has contributed significantly to Pittsburgh's role as a leader in robotics. "CMU has attracted the best robotics talent for decades," says Mr. Kalson, "and the University of Pittsburgh is making exciting inroads as well."
Uber's John Bares agrees that the region's qualities make it attractive to industry. "Pittsburgh is ripe for business investment. A growing innovation sector, access to top local talent and proximity to world-class research institutions are all reasons why we chose to make our home here."
Seegrid's Jim Rock adds, "We have deep Pittsburgh roots. Many of our team members are products of Pittsburgh's leading universities, and our technology is an outgrowth of CMU's Mobile Robot Lab."
Pittsburgh Presents Robotics: Why the World Is Watching will be held at Alpha Lab Gear on Tuesday, March 29, from 5:30 PM - 8:00 PM. The event is sponsored by Cohen & Grigsby, with support from ANSYS and Alpha Lab Gear. Register now.
MIT Enterprise Forum Pittsburgh is affiliated with the Massachusetts Institute of Technology (MIT) through MIT Technology Review. We help early-stage technology entrepreneurs succeed faster through relevant programming and practical content.
Since 1981, Cohen & Grigsby, P.C. and its attorneys have provided sound legal advice and solutions to clients that seek to maximize their potential in a constantly changing global marketplace. Comprised of more than 130 lawyers, Cohen & Grigsby maintains offices in Pittsburgh, Pa. and Naples, Fla.
Featured Product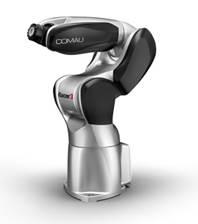 Racer3 is a powerful, high-speed, 6-axis articulated robot featuring a payload of 3kg and a reach of just 630 mm. Built from high-strength aluminum, the newest innovation in Comau robotics is lightweight and can be easily mounted on benches, walls, ceilings or on inclined supports. The third robot within the award-winning Racer family, Racer3 is Comau's response to the growing demand for fast, cost-effective robotic automation within small to medium-sized enterprises and emerging countries. Racer3 is intended for general industry use to increase productivity and reduce overall costs by automating industrial applications. It combines field-proven technology and enhanced dexterity with a keen focus on safety, design and product aesthetics. With a streamlined design and brushed metal exterior, the new powerhouse of a robot combines beauty and speed together with absolute precision and repeatability. Primary applications include assembly, material handling, machine tending, dispensing and pick & place.