Georgia World Congress Center, Atlanta, GA from April 4-7
New York, NY - March 10, 2016 - Massachusetts-based warehouse automation company Locus Robotics (www.locusrobotics.com) has announced that it will demonstrate its new, innovative order fulfillment solution at the MODEX 2016 tradeshow in Atlanta, GA from April 4 - 7 at booth #4670.

Locus Robotics will present the unique concepts and technology that will allow operations to pick orders faster. The collaborative process, where humans and LocusBots™ work side by side in the same space, is characterized by a 5-8 times improvement in user productivity, an ability to support different types of operations ranging from eCommerce to wholesale to store replenishment, and an approach that uses existing infrastructure to drive down solution cost and speed time to deployment.
"This will be Locus Robotics' first public event," said CEO and co-founder Bruce Welty. "We look forward to demonstrating to attendees how our innovations dramatically and simply increase productivity without sacrificing operational flexibility."
ABOUT LOCUS ROBOTICS
Building on years of direct warehouse operations experience and deep firsthand knowledge of warehouse robotics, Locus has engineered a new approach to mission critical fulfillment operations. The Locus platform delivers greater throughput, reduced costs and unparalleled flexibility in moving inventory and orders through a fulfillment center. This efficiency and flexibility in turn allow operators to keep up with the increasingly complex demands of channel partners and consumers. Simply pick faster. For more information, visit www.locusrobotics.com.
ABOUT MODEX 2016
MODEX is hosted by MHI and expects more than 850 exhibits from suppliers around the world. The four-day show includes keynote speakers from entrepreneurial show Shark Tank, the X PRIZE Foundation, Cisco, and MHI heads. The trade show will last from 10 a.m. to 5 p.m. April 4-6 and from 10 a.m. to 3 p.m. April 7.
###
MEDIA CONTACT:
BRANDSTYLE COMMUNICATIONS
Adaline Colton / adaline@brandstylecommunications.com
646.795.3443
Featured Product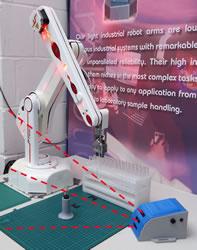 ST Robotics have decades of experience in industrial robots having sold hundreds of robots over the years. The company has 3 main models, R12, R17 and R19 all using a unique simple industrial technology that dramatically reduces costs resulting in the lowest priced industrial robots available. The same uncomplicated technology vastly improves reliability. ST backs this up with a 2 year warranty. Typical applications are routine testing, sample handling and also education. The software is a different paradigm from most robots. It is command based; you type a command and see immediate action. Programming is a building block approach, building confidence as you program in small 'mind-sized bytes'. ST offers free unlimited technical support.