Georgia World Congress Center, Atlanta, GA from April 4-7
New York, NY - March 10, 2016 - Massachusetts-based warehouse automation company Locus Robotics (www.locusrobotics.com) has announced that it will demonstrate its new, innovative order fulfillment solution at the MODEX 2016 tradeshow in Atlanta, GA from April 4 - 7 at booth #4670.

Locus Robotics will present the unique concepts and technology that will allow operations to pick orders faster. The collaborative process, where humans and LocusBots™ work side by side in the same space, is characterized by a 5-8 times improvement in user productivity, an ability to support different types of operations ranging from eCommerce to wholesale to store replenishment, and an approach that uses existing infrastructure to drive down solution cost and speed time to deployment.
"This will be Locus Robotics' first public event," said CEO and co-founder Bruce Welty. "We look forward to demonstrating to attendees how our innovations dramatically and simply increase productivity without sacrificing operational flexibility."
ABOUT LOCUS ROBOTICS
Building on years of direct warehouse operations experience and deep firsthand knowledge of warehouse robotics, Locus has engineered a new approach to mission critical fulfillment operations. The Locus platform delivers greater throughput, reduced costs and unparalleled flexibility in moving inventory and orders through a fulfillment center. This efficiency and flexibility in turn allow operators to keep up with the increasingly complex demands of channel partners and consumers. Simply pick faster. For more information, visit www.locusrobotics.com.
ABOUT MODEX 2016
MODEX is hosted by MHI and expects more than 850 exhibits from suppliers around the world. The four-day show includes keynote speakers from entrepreneurial show Shark Tank, the X PRIZE Foundation, Cisco, and MHI heads. The trade show will last from 10 a.m. to 5 p.m. April 4-6 and from 10 a.m. to 3 p.m. April 7.
###
MEDIA CONTACT:
BRANDSTYLE COMMUNICATIONS
Adaline Colton / adaline@brandstylecommunications.com
646.795.3443
Featured Product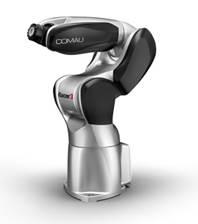 Racer3 is a powerful, high-speed, 6-axis articulated robot featuring a payload of 3kg and a reach of just 630 mm. Built from high-strength aluminum, the newest innovation in Comau robotics is lightweight and can be easily mounted on benches, walls, ceilings or on inclined supports. The third robot within the award-winning Racer family, Racer3 is Comau's response to the growing demand for fast, cost-effective robotic automation within small to medium-sized enterprises and emerging countries. Racer3 is intended for general industry use to increase productivity and reduce overall costs by automating industrial applications. It combines field-proven technology and enhanced dexterity with a keen focus on safety, design and product aesthetics. With a streamlined design and brushed metal exterior, the new powerhouse of a robot combines beauty and speed together with absolute precision and repeatability. Primary applications include assembly, material handling, machine tending, dispensing and pick & place.