Easy to install and control IP65-rated modular servo motors ideal for simple positioning robotics, packaging, and material handling tasks
UXBRIDGE, MA - MARCH 14, 2016 - A leading global manufacturer of electrical and mechanical drives, motion control and automation technologies, Lenze Americas has launched a series of MCM synchronous servo motors that delivers intermediate-level dynamic performance. Scalable, modular Lenze MCM motors are easy to control and optimized for a range of positioning tasks, including robotics, packaging equipment and handling systems.

"Designed with an optimal torque and inertial mass ratio, our MCM servo motors give customers the precision they need in a compact and simple solution," said Doug Burns, director of sales and marketing, Lenze. "MCM motors work in perfect harmony with Lenze inverters in positioning, return and any recurring motion sequences in the medium dynamic range."
Modular MCM motors feature IP65-rated protection class housings with easily cleaned surfaces for food processing and other applications. Equipped with a robust resolver feedback system as a standard feature, the motors can be optionally supplied with multi-turn, sine-cosine encoders for high precision. SpeedTec connections with rotary connector boxes simplify and expedite installation, maintenance and replacement.
The Lenze MCM motor series is available in three sizes with power ratings of 0.27 to 3.35 Hp (0.2 to 2.5 kW). In conjunction with Lenze i700, 9400 and 8400 TopLine servo inverters, the economically efficient and powerful MCM motor drive solutions are capable of achieving torque ranges from 5.31 to 233.66 in-lbs. (0.6 to 26.4 Nm). Self-cooling MCM servo motors are optimized with spring-applied brakes, feedback systems and connections, and a comprehensive range of system cables for easy installation.
"Tailored for superior performance in positioning tasks requiring intermediate-level dynamics, MCM motors complement the Lenze portfolio, maximum precision requirements," adds Burns.  
For more information about MCM synchronous servo motors and other Lenze motion control technologies, please visit http://www.lenze.com/en-us/products/motors/servo-motors/mcm-synchronous-servo-motors/.
###
About Lenze Americas
Lenze is a global manufacturer of electrical and mechanical drives, motion control and automation technology. As a global specialist in Motion Centric Automation, we offer our customers products, drive solutions, complete automation systems, engineering services and tools from a single source. We are a leading provider of automation solutions to the packaging industry, and our other focus industries include automotive, material handling and logistics, robotics, and commercial pumps/fans. With a global network of engineers, sales representatives, and manufacturing facilities, Lenze is well-positioned to meet the motion control needs of customers worldwide. Lenze Americas, the American subsidiary of Lenze SE of Germany, is headquartered in Uxbridge, Massachusetts, with an assembly and logistics center in Glendale Heights, Illinois. Corporate global headquarters are in Hamelin, Germany. Visit www.Lenze.com for more information.
Featured Product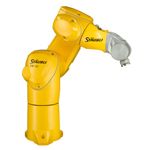 Stäubli offers a complete range of robotic tool changing systems for payloads of 20 kg to 1,530 kg and torsion moments from 30 to 12,500 Nm, designed for use in virtually every industry. The tool changers adapt to customer-specific applications with different modules for media, data, power, etc. The new MPS 130 robotic tool changer is powerful, very robust, and designed for a huge range of applications. It features multiple couplings for air/vacuum connections, and can be equipped with connectors for data and electrical transmission. Very compact dimensions, with a coupled height of only 67 mm, make the MPS 130 the first choice for applications requiring a high number of mating cycles.