Three innovative motion plastic solutions from igus have been awarded with international design awards.
Since 1987, igus has been awarded a total of 35 iF Design Awards for its wide range of motion plastic solutions. The three most recent awards for innovative product design have been collected for the Triflex RSE robotic retraction system, CFRIP cable stripping system, and the e-bone headphone cable management tool. The iF Design Awards are regarded among the largest and most important design awards worldwide, with a history reaching back to the 1950's, awarded by a jury of industry and design experts from across the globe.

Secure and flexible Triflex RSE retraction system
The Triflex RSE system enable guidance of cables and hoses on industrial robots to carry cables, as well as solid items, such as rivets or screws, both securely, and cost-effectively. The RSE system guarantees minimum bending radii of the multi-axis Triflex Energy Chain, avoiding the formation of loops or tangling. Elastic cords automatically retract the cable carrier on the transport carriage, while the lightweight, simple-filling plastic carrier follows the robotic movement.
Easy cable stripping with CFRIP
Quick and easy installation of cables is enabled by igus' CFRIP system. Chainflex cables can be stripped quickly and cleanly thanks to a rip cord integrated into the cable jacket. The unique stripping system for Chainflex continuous-flex cables is suitable for long cable lengths, completely avoiding damage to the cable core structure, even under high dynamics. Using the integrated cord, the cable jacket can be opened precisely to the desired length and removed without any additional tools, saving up to 50% of work time when fitting cables.
New from igus - the flexible e-bone prevents cable clutter outside the industrial atmosphere
Despite its departure from traditional developments from igus, the e-bone headphone caddy proved worthy to the iF Design Award jury. Eliminating the regular occurrence of knotted headphone cables, the e-bone provides an elegant solution that is both flexible and robust enough to stand up to daily use. Earpieces of the headphones are secured into special eyelets, while the cables are wrapped around the compact e-bone body, leaving a secure package small enough to fit into any pocket. While in use, the e-bone can remain on the headphone cables, making re-wrapping quick and easy.
To see all igus iF award winning products, please visit
http://www.ifworlddesignguide.com/profile/736-igus or http://www.igus.com
About igus®
igus® develops industry-leading Energy Chain® cable carriers, Chainflex® Motion Cables, DryLin® linear bearings and linear guides, iglide® plastic bushings, and igubal® spherical bearings. These seemingly unrelated products are linked together through a belief in making functionally advanced, yet affordable plastic components and assemblies. With plastic bearing experience since 1964, cable carrier experience since 1971 and Motion Cables since 1989, igus provides the right solution from over 100,000 products available from stock. No minimum order required. For more information, contact igus at 1-800-521-2747 or visit http://www.igus.com.
Featured Product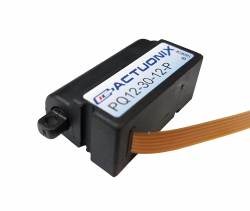 The PQ12-R series of linear servos are the smallest affordable linear servo on the market today. Small enough to fit inside a tic tac box, it's very powerful with a maximum force of over 11lbs. It operates as a direct plug-and-play replacement for standard rotary servos, using the same standard 3 wire connector. Regardless of how you drive your servos, be it with an RC receiver, an Arduino board, or a VEX micro-controller, the PQ12-R servo will function in place of a regular servo, but with the added benefit of providing linear motion. They're available in a 20mm stroke coupled with gear ratio options of 30:1, 63:1 and 100:1 cover a large variety of applications. Our PQ12 is popular used in a variety of robotics applications, medical devices, radio control and 3D printable bionic hands. Our PQ12 is proudly designed in Canada by our in-house team of engineers and thoroughly tested before leaving our facility.