Global distributor Mouser Electronics teams up with Infineon and celebrity engineer Grant Imahara to present an exciting video spotlight interview on power management. To learn more, visit www.mouser.com/empowering-innovation.
DALLAS & FORT WORTH, Texas--(BUSINESS WIRE)--Mouser Electronics, Inc. is teaming up with celebrity engineer Grant Imahara to unveil its next Innovation Spotlight interview as part of the Portable Power Series and Empowering Innovation Together™ program. Following up on his discussion with Dr. Richard Kaner about harnessing energy with micro-supercapacitors, Grant Imahara turns his attention to how component suppliers are focusing on energy management and storage with a special spotlight interview from Adam White, VP of Sales at Infineon Technologies, Platinum Program Partner of the Portable Power Series.

In this second Innovation Spotlight interview, Grant Imahara and Adam White continue the power discussion, addressing the challenges of energy management and how new technologies and materials can improve energy efficiency. Grant discovers how Infineon is responding to those concerns, what trends they see in power technology, and how they see the future of energy storage and battery management.
"As consumer electronics get smaller, and society becomes more reliant on battery-powered devices, it's up to suppliers like Infineon to incorporate the latest technologies into power design," said Grant Imahara. "In this new Innovation Spotlight interview, viewers will learn about some of the new materials and methods Infineon is bringing to power management in 2016 and beyond."
The new Portable Power Series, available only on Mouser.com, is part of the award-winning Empowering Innovation Together program, which is designed to inspire creative thinking for both professional and aspiring engineers. The comprehensive series — sponsored by Platinum Program Partner Infineon Technologies and Diamond Sponsor TDK — will also include accompanying articles, blogs and other related technical content. The Portable Power Series is the first installment for 2016, following the popular Robotics, Space, Home Automation and Driverless Cars programs launched in 2015 from Mouser Electronics.
To learn more about Grant Imahara, the Empowering Innovation Together program and the Mouser partnership, visit www.mouser.com/empowering-innovation/.
With its broad product line and unsurpassed customer service, Mouser caters to design engineers and buyers by delivering What's Next in advanced technologies. Mouser offers customers 21 global support locations and stocks the world's widest selection of the latest semiconductors and electronic components for the newest design projects. Mouser Electronics' website is updated many times per day and searches more than 10 million products to locate over 4 million orderable part numbers available for easy online purchase. Mouser.com also houses an industry-first interactive catalog, data sheets, supplier-specific reference designs, application notes, technical design information, and engineering tools.
About Mouser Electronics
Mouser Electronics, a subsidiary of TTI, Inc., is part of Warren Buffett's Berkshire Hathaway family of companies. Mouser is an award-winning, authorized semiconductor and electronic component distributor, focused on the rapid introduction of new products and technologies to electronic design engineers and buyers. Mouser.com features more than 4 million products online from more than 500 manufacturers. Mouser publishes multiple catalogs per year providing designers with up-to-date data on the components now available for the next generation of electronic devices. Mouser ships globally to over 500,000 customers in 170 countries from its 492,000 sq. ft. state-of-the-art facility south of Dallas, Texas. For more information, visit www.mouser.com.
Featured Product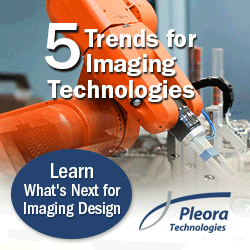 Technology development moves at a dizzying pace and the machine vision industry is no exception. Specific to imaging there is consistent innovation aimed at improving efficiencies, costs, and intelligence. Over the past 12 months, for example, new USB3 Vision™ products have driven the design of higher bandwidth, plug-and-play solutions for imaging applications. What's next for machine vision? This article examines five trends that are expected to influence imaging system design. Sign up at right to receive news and updates on the latest vision technology for medical imaging and you'll receive Five Trends for Imaging Technologies free!