Representatives from Amazon Prime Air, Cisco Systems, the Federal Aviation Administration and Department of Defense to keynote the unmanned systems and robotics industry's largest trade show
ARLINGTON, Va., March 28, 2016 /PRNewswire/ -- Award-winning journalist Miles O'Brien will host XPONENTIAL 2016, the largest trade show for the unmanned systems and robotics industry, taking place at the Ernest N. Morial Convention Center in New Orleans from May 2 to 5. In addition, top executives from Amazon Prime Air and Cisco Systems, along with top officials from the Federal Aviation Administration (FAA) and Department of Defense, will deliver keynote addresses at the show.

O'Brien, a veteran independent journalist and accomplished pilot, focuses on science, technology and aviation. He is the science correspondent for PBS NewsHour, a producer and director for the PBS science documentary series NOVA, and a correspondent for the PBS documentary series FRONTLINE and the National Science Foundation Science Nation series. For nearly 17 years, he worked as a science, environment and aerospace space correspondent for CNN and anchored various programs, including American Morning.
O'Brien will introduce each of the keynote speakers during the three-day show.
Gur Kimchi, vice president and co-founder of Amazon Prime Air, who will speak on Tuesday, May 3 at 9 a.m. CDT.
John T. Chambers, executive chairman and former CEO of Cisco Systems, who will also speak on Tuesday, May 3 at 9 a.m. CDT.
General David G. Perkins, commander of the United States Army Training and Doctrine Command, who previously served as the 21st Commander of the U.S. Army Combined Arms Center, will speak on Tuesday, May 3 at 3:30 p.m. CDT.
Michael P. Huerta, administrator of the Federal Aviation Administration, will speak on Wednesday, May 4 at 9 a.m. CDT.
Frank Kelley, deputy assistant secretary of the U.S. Navy (Unmanned Systems), Office of the Assistant Secretary of the Navy (Research, Development & Acquisition), who will speak on Thursday, May 5 at 9 a.m. CDT.
More than 8,000 industry leaders and professionals from more than 55 countries are expected to attend XPONENTIAL 2016. The exhibit hall will showcase more than 600 cutting-edge companies from around the world, representing more than 20 industries. In addition, there will be more than 300 educational sessions, providing information about the future of unmanned systems policy, regulations and technology.
XPONENTIAL 2016 will also feature the Startup Showdown, where 15 semi-finalist innovators will present to a panel of venture capitalist judges for a chance to win $15,000 in cash prizes and mentor opportunities. More information about the semi-finalists can be found here.
For more information about XPONENTIAL 2016, visit www.xponential.org.
To view this media announcement online, please visit http://bit.ly/25oykqk.
The Association for Unmanned Vehicle Systems International (AUVSI) — the world's largest nonprofit organization dedicated to the advancement of unmanned systems and robotics — represents more than 7,500 members from more than 60 countries involved in the fields of government, industry and academia. AUVSI members work in the defense, civil and commercial markets.
SOURCE Association for Unmanned Vehicle Systems International (AUVSI)
Featured Product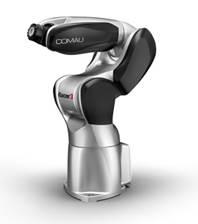 Racer3 is a powerful, high-speed, 6-axis articulated robot featuring a payload of 3kg and a reach of just 630 mm. Built from high-strength aluminum, the newest innovation in Comau robotics is lightweight and can be easily mounted on benches, walls, ceilings or on inclined supports. The third robot within the award-winning Racer family, Racer3 is Comau's response to the growing demand for fast, cost-effective robotic automation within small to medium-sized enterprises and emerging countries. Racer3 is intended for general industry use to increase productivity and reduce overall costs by automating industrial applications. It combines field-proven technology and enhanced dexterity with a keen focus on safety, design and product aesthetics. With a streamlined design and brushed metal exterior, the new powerhouse of a robot combines beauty and speed together with absolute precision and repeatability. Primary applications include assembly, material handling, machine tending, dispensing and pick & place.