At MODEX booth #3147, attendees can view Yale A-WARE in action, to see how it can help increase throughput, safety and equipment life.
GREENVILLE, N.C. (April 6, 2016) - Smart technology holds the key for high-performing operations to meet critical demand and throughput targets, while reducing operational costs. These benefits are possible with Yale A-WARE™, a location-based truck performance control solution that uses radio frequency identification (RFID) tags to enforce travel speed, acceleration and lift restrictions. At MODEX booth #3147, attendees can view Yale A-WARE in action, to see how it can help increase throughput, safety and equipment life.

Yale A-WARE works through RFID tags deployed in warehouse storage aisles that are read by a truck-mounted RFID sensor. When the sensor reads a tag, it automatically triggers traction and lift settings, to allow the truck to only operate at pre-defined speeds, heights and other operational parameters. This permits the operator to pay more attention to operational tasks and can protect trucks and facility infrastructure thanks to reduced impacts.
"Yale A-WARE allows operations to control very narrow aisle truck speed and max lift height anywhere in any storage aisle, freeing the operator to focus on getting the job done right," said Lou Micheletto, Manager, Integrated Solutions, Yale. "Operations can use this technology for a competitive advantage, enabling them to reach new levels of labor efficiency and equipment performance."
In addition to travel and lift height restrictions, Yale A-WARE can adjust to handle the nuances of each aisle, with multi-zone functionality to identify high traffic areas and automatically detect dead-ends, reducing the risk of collisions and decreasing operational downtime. The RFID tags also offer faster installation at reduced cost compared to magnets, and they cannot be covered up, ensuring maximum reliability.
Featured Product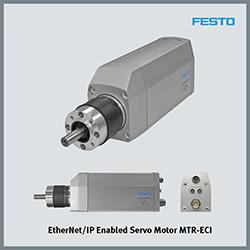 Mechatronic Motion Solutions from Festo is a unique system of components, modules, and software. It integrates all types of pneumatic, servopneumatic and (electro)mechanical automation motion and combines them according to your task. Irrespective of the control system environment you use, Mechatronic Motion Solutions always provides the appropriate interfaces. The fingers can be actively moved and their strength amplified; the operator's hand movements are registered and transmitted to the robotic hand in real time. The objectives are to enhance the strength and endurance of the human hand, to extend humans' scope of action and to secure them an independent lifestyle even at an advanced age.