Yale enhances wireless asset management system
GREENVILLE, N.C. (April 7, 2016) - A clear view into operations enables data-driven decisions to optimize fleets for increased productivity, improved utilization and lower total cost of operations. At MODEX 2016 booth #3147, Yale Materials Handling Corporation promotes two features of its Yale Vision wireless asset management system. These features allow operations to connect to any cellular network, and offer the flexibility to be installed on virtually any moving warehouse asset.

"Extended connectivity and compatibility options are critical for operations to get the most out of their wireless asset management programs," says Kevin Paramore, Manager of Aftermarket Solutions for Yale. "With these features, warehouse managers can achieve the flexibility and convenience needed to optimize their fleets while grappling with modern distribution challenges."
Telemetry systems require a connection to transfer data from each piece of equipment to a central database. With the capability to connect to any cellular network, Yale Vision presents operations with the freedom to select the best option for their needs based on signal strength, IT infrastructure and other factors. Additionally, Yale Vision can be installed on virtually any moving warehouse asset. This allows operations to seamlessly integrate the management of their warehouse equipment and examine uniform data including productivity, costs and operator behavior metrics.
Featured Product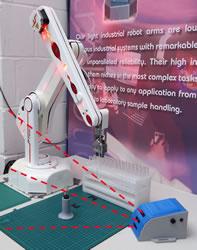 The 6-axis version of the R17HS high speed variant of the R17 robot is now available. As is our policy the 6th axis is an optional bolt-on module. At the same time we have made it even faster and new software eliminates shake and greatly improves repeatability as this video shows. Please see https://www.youtube.com/watch?v=3wG0MeiJ-yE. The video would seem to imply a repeatability of 0.01mm but we are sticking with 0.2mm in the spec. The motor specialist was able to tune the motors from the other side of the pond. My first reaction when we put power on and entered the first commands was to jump back in amazement (and maybe an expletive). Tip speed is now 3m/s; that's 3 times as fast as its nearest competitor yet costs half the price. I love it when a plan comes together.