From 16 - 18 September, KUKA was represented by the LBR iiwa at the Robodonien robot art festival.
From 16 - 18 September, KUKA was represented by the LBR iiwa at the Robodonien robot art festival. As part of a workshop at the Faculty of Architecture at RWTH Aachen University, visitors had the opportunity to generate foldable elements in a semi-automated process and add these to a larger structure. The collaborative lightweight robot can be programmed by humans using touch without the need for previous knowledge.

LBR IIWA HELPS TO MANUFACTURE COMPONENTS
The Faculty for Individualized Production in Architecture at RWTH Aachen and KUKA collaborated to produce an intelligent robot helper. Known as DIANA ("Dynamic and Interactive Robotic Assistant for Novel Applications"), the project placed among the finalists at this year's KUKA Innovation Award. This successful contribution was refined for the Robodonien robot art festival . A KUKA LBR iiwa lightweight robot is part of a traveling pavilion created for a project by students Lukas Mahlendorf and Viktoria Falk under the supervision of Sigrid Brell-Cokcan (Individualized Production) and Linda Hildebrand (Cycle Oriented Construction). The robot functions as an assistant that is controlled by the operator using touch alone. It provides support in constructing foldable elements which can be created from a variety of materials.
HUMAN-ROBOT COLLABORATION POSSIBLE WITHOUT PREVIOUS KNOWLEDGE
At this year's Robodonien, visitors to a workshop were able to gain hands-on experience with the sensitive seven-axis robot. The robot guided visitors through the assembly tasks. For this, it interacts on a haptic and visual level with its human counterpart. The pre-defined procedure can be modified intuitively by touching and guiding the robot, and the program can be rewound and adapted. This allows the LBR iiwa to quickly and easily learn new assembly positions from its human counterpart. This type of "haptic" programming, which uses neither language nor camera systems, was unveiled to the public by RWTH Aachen University at the Robodonien festival.
VISITORS CAN INTUITIVELY OPERATE THE LIGHTWEIGHT ROBOT
In the end, the elements produced from the interaction with visitors were used to create a large structure. "The sensitivity and ease of operation make the LBR iiwa the perfect assistant for our project. The option of switching the robot axes to "soft mode" enables a new, intuitive interaction with humans. In this way, the robot learns from the human and the human from the robot with the result that both sides perfect their work sequence, which is then saved for all additional parts", explains Sigrid Brell-Cokcan.
Featured Product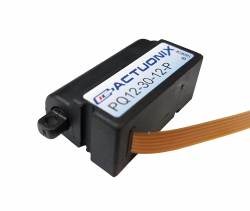 The PQ12-R series of linear servos are the smallest affordable linear servo on the market today. Small enough to fit inside a tic tac box, it's very powerful with a maximum force of over 11lbs. It operates as a direct plug-and-play replacement for standard rotary servos, using the same standard 3 wire connector. Regardless of how you drive your servos, be it with an RC receiver, an Arduino board, or a VEX micro-controller, the PQ12-R servo will function in place of a regular servo, but with the added benefit of providing linear motion. They're available in a 20mm stroke coupled with gear ratio options of 30:1, 63:1 and 100:1 cover a large variety of applications. Our PQ12 is popular used in a variety of robotics applications, medical devices, radio control and 3D printable bionic hands. Our PQ12 is proudly designed in Canada by our in-house team of engineers and thoroughly tested before leaving our facility.