OCTOPUZ Inc. is pleased to announce that PM PROJECT has signed on to become an official reseller of OCTOPUZ software in Poland.
OCTOPUZ Inc. is pleased to announce that PM PROJECT has signed on to become an official reseller of OCTOPUZ software in Poland. Located in the city of Czestochowa, PM PROJECT focuses on providing cutting-edge manufacturing software solutions to a wide range of company sizes and sectors. It is a young, rapidly growing company with a team of specialists adept at keeping up with the high rate of growth Poland is seeing in demand for manufacturing software. Piotr Mizera, CEO of PM PROJECT, expressed excitement for the future of the Polish robotics industry: "I think most of the European markets are still rising, with robots and robotic software becoming normalized, bringing increased efficiency to industrial companies." Commenting on OCTOPUZ specifically, Mizera is eager to leverage this new partnership. "OCTOPUZ is one of the best software solutions in the world for robotic programming, giving us the opportunity to show clients that if they decide to use OCTOPUZ they can move their companies to a higher level. Our experience combined with the advanced functionality of OCTOPUZ software is a recipe to become number one in robotic programming software in Eastern Europe." PM PROJECT is particularly excited to bring OCTOPUZ to companies that specialize in welding and milling. OCTOPUZ combines the offline programming of robots with manufacturing process simulation, providing mainstream, powerful, and effective solutions. It is fully customizable and can cut down on path generation time by 50% or more, allowing users to program and simulate multiple robots simultaneously across a wide range of applications. To learn more about OCTOPUZ or to request a free personalized demo for your application, send an email to info@octopuz.com or get in touch with your nearest reseller.

About PM PROJECT
PM PROJECT is a young, rapidly growing company with great potential, backed by an experienced team of specialists who succeed on a wide variety of different jobs. The company now offers a comprehensive solution providing advanced CAD design tools for both 2D and 3D, computer-aided manufacturing CAM, CNC simulators and robots (with the possibility of offline robotic programming). In addition, we also offer 3D scanners, services supporting reverse engineering and 3D printers for rapid prototyping. PM PROJECT also specializes in providing technical support and conducting professional training.
About OCTOPUZ
OCTOPUZ is intelligent offline robot programming and simulation software ideal for any path-sensitive application. Created by In-House Solutions, the company took a revolutionary approach by combining the offline programming of robots with a manufacturing process simulation. Today, OCTOPUZ provides a mainstream, versatile, powerful and effective solution for any robotic challenge.
Featured Product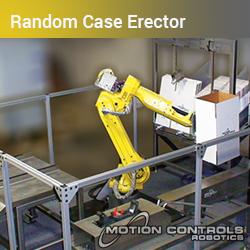 Random Case Erectors are ideal for fulfillment centers and other end-of-line packaging needs. Save money by eliminating changeover downtime. Reduce ergonomic injuries by eliminating repetitive manual tasks. The Random Robotic Case Erector System includes: • FANUC M20iA/20 Robot • Combi gravity case magazine - holds 2 box sizes • Combi bottom flap folder with integrated 3M case sealing head. • Fixed robot base, anchored to the floor • Flexible end of arm tool to pick and erect multiple case sizes to eliminate changeover downtime • System wiring and controls • Color 7.5" touchscreen HMI display for selecting case size • Perimeter guarding with safety interlocks on doors • Programming for Robot, PLC/PMC, HMI and Vision • Complete documentation in electronic format • On-site training and support • Compliance with all applicable robotic safety standards. Alternate safety configuration may be available to allow an operator to changeover a case size in one magazine while the robot continues to work in other magazines. Contact Motion Controls Robotics to learn more about how to implement this system into your current end-of-line operations.