Brief links unmanned systems, sensors and computer vision for battlefield situational awareness.
Kitware reported that it will present the brief "Linking Unmanned Systems, Visible and IR Video, Computer Vision, and Humans Together for Real-Time, Squad-Level, Battlefield Situational Awareness" at the Association for Unmanned Vehicles Systems International (AUVSI) XPONENTIAL 2017 conference. In the brief, Keith Fieldhouse, assistant director of computer vision, will grant insight into support of squad-level activities from Kitware with contributions to unmanned systems, sensors and computer vision software. He will discuss the intelligent integration of various platforms, sensors, software and humans to demonstrate the techniques, challenges and value that intelligent integration provides. The brief will occur Monday, May 8, 2017, from 4:30 to 5 p.m. CDT in room C140 of the Kay Bailey Hutchison Convention Center Dallas.

"Currently, our warfighters at the squad level do not have the tactical advantages available at the brigade level," Fieldhouse said. "We are developing capabilities to give squads extra sets of eyes on the ground and in the sky to provide actionable intel in real time without overloading warfighters with additional data."
According to the conference website, XPONENTIAL will host "the largest global community of leaders in drones, intelligent robotics and unmanned systems." For more details on the Kitware presentation, please visit its dedicated webpage.
Kitware utilizes computer vision and deep learning to solve challenging problems in the areas of object detection, recognition, content-based retrieval and semantic segmentation for projects that relate to manned and unmanned systems. The company works with government customers as well as large and small commercial companies through consulting services and collaborative projects. To set up a time to meet with Kitware at the conference, please email computervision(at)kitware(dot)com.
About Kitware
Kitware is an advanced technology research and solutions provider for laboratories, government institutions and corporations worldwide. Founded in 1998, Kitware specializes in research and development in the areas of HPC and visualization, medical imaging, computer vision, data and analytics and quality software process. Among its services, Kitware offers consulting and support for high-quality software solutions. Kitware is headquartered in Clifton Park, NY, with offices in Carrboro, NC; Santa Fe, NM; and Lyon, France. More information can be found on kitware.com.
Featured Product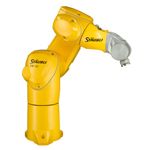 TX2 series of robots: the next generation of fast and precise 6-axis robots. This new robot range is redefining performance with the optimum balance of speed, rigidity, size and envelope. Those pioneer robots can be used in all areas, including sensitive and restrictive environments thanks to their unique features. Known worldwide for the quality of our design and innovation for more than a century, the Stäubli Group has brought its renowned engineering expertise and technological ingenuity to the forefront of robotics. Since 1982, we have built a highly regarded robotics business, and more significantly, transformed the way thousands of manufacturing operations perform. Today Stäubli Robotics is a leading player in robotics around the world, consistently delivering engineering as effective and reliable as our service and support.