$25 Raspberry Pi Credit-card Sized Computer Almost Ready For Shipment
The Raspberry Pi is a ARM based single-board computer developed to run Linux for just $25 ($35 for model B with WiFi). The board contains an ARM1176JZFS, with floating point, running at 700Mhz, and a Videocore 4 GPU. The GPU is capable of BluRay quality playback, using H.264 at 40MBits/s. It has a fast 3D core accessed using the supplied OpenGL ES2.0 and OpenVG libraries. The board has an HDMI port, one USB 2.0 port, one micro USB port for power, an audio jack, RCA video out and a SD card slot.
They aren't taking orders yet but you can track the status by joining their mailing list here.
Comments (0)
This post does not have any comments. Be the first to leave a comment below.
---
Post A Comment
You must be logged in before you can post a comment. Login now.
Featured Product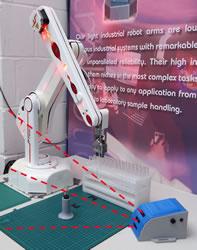 ST Robotics have decades of experience in industrial robots having sold hundreds of robots over the years. The company has 3 main models, R12, R17 and R19 all using a unique simple industrial technology that dramatically reduces costs resulting in the lowest priced industrial robots available. The same uncomplicated technology vastly improves reliability. ST backs this up with a 2 year warranty. Typical applications are routine testing, sample handling and also education. The software is a different paradigm from most robots. It is command based; you type a command and see immediate action. Programming is a building block approach, building confidence as you program in small 'mind-sized bytes'. ST offers free unlimited technical support.