Low-cost Spectral Imaging Solution
Hyperspectral imaging, also called imaging spectroscopy, is a method of obtaining the spectral content of each pixel in a 2D image. The spectral data can be used into identify the chemical compounds or materials. Up till now hyperspectral imaging devices have been very expensive, starting at around $25,000 dollars. Engineers at the Vienna University of Technology and the University of Arizona have shown that they can perform CTIS spectral imaging using an unmodified consumer camera. The device they have developed can be used in a hyperspectral imaging mode that allows the spectral measurement of a whole image with up to 5-nm spectral resolution and 120 x 120-pixel spatial resolution and can be built for under $1000.
Comments (0)
This post does not have any comments. Be the first to leave a comment below.
---
Post A Comment
You must be logged in before you can post a comment. Login now.
Featured Product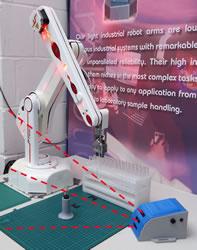 ST Robotics have decades of experience in industrial robots having sold hundreds of robots over the years. The company has 3 main models, R12, R17 and R19 all using a unique simple industrial technology that dramatically reduces costs resulting in the lowest priced industrial robots available. The same uncomplicated technology vastly improves reliability. ST backs this up with a 2 year warranty. Typical applications are routine testing, sample handling and also education. The software is a different paradigm from most robots. It is command based; you type a command and see immediate action. Programming is a building block approach, building confidence as you program in small 'mind-sized bytes'. ST offers free unlimited technical support.