President Signs FAA Bill To Integrate Unmanned Vehicle Systems By 2015
President Obama has signed the FAA Modernization and Reform Act 2012. The bill will allow the FAA to rebuild its air traffic control system to the next generation technology which will include switching from radar to a GPS air traffic control system. The law will open up the skies to unmanned drones by September 2015.
According to AUVSI (Association for Unmanned Vehicle Systems International), major UAS provisions in the FAA bill include:
Setting a 30 Sept., 2015 deadline for full integration of UAS into the national airspace
Requiring a comprehensive integration plan within nine months
Requiring the FAA to create a five-year UAS roadmap (which should be updated annually)
Requiring small UAS (under 55 pounds) to be allowed to fly within 27 months
Requiring six UAS test sites within six months (similar to the language in the already-passed defense bill)
Requiring small UAS (under 55 pounds) be allowed to fly in the U.S. Arctic, 24 hours a day, beyond line-of-sight, at an altitude of at least 2,000 feet, within one year
Requiring expedited access for public users, such as law enforcement, firefighters, emergency responders
Allowing first responders to fly very small UAS (4.4 pounds or less) within 90 days if they meet certain requirements
Requiring the FAA to study UAS human factors and causes of accidents
Comments (0)
This post does not have any comments. Be the first to leave a comment below.
---
Post A Comment
You must be logged in before you can post a comment. Login now.
Featured Product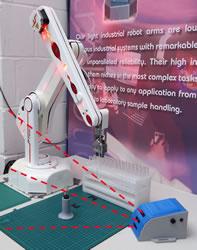 ST Robotics have decades of experience in industrial robots having sold hundreds of robots over the years. The company has 3 main models, R12, R17 and R19 all using a unique simple industrial technology that dramatically reduces costs resulting in the lowest priced industrial robots available. The same uncomplicated technology vastly improves reliability. ST backs this up with a 2 year warranty. Typical applications are routine testing, sample handling and also education. The software is a different paradigm from most robots. It is command based; you type a command and see immediate action. Programming is a building block approach, building confidence as you program in small 'mind-sized bytes'. ST offers free unlimited technical support.