Kinect 2.0 for Windows Developer Kit Program Preorder
You can apply to take part in the Kinect for Windows developer kit program. This program, which begins in November 2013, will provide developers with tools and a pre-release sensor as soon as possible so they can start building new applications before general availability in 2014.
The program fee will be US$399 (or local equivalent) and offers the following benefits:
Direct access to the Kinect for Windows engineering team via a private forum and exclusive webcasts
Early SDK access (alpha, beta, and any updates along the way to release)
Private access to all API and sample documentation
A pre-release/alpha sensor
A final, released sensor at launch
There are a limited number of spots in the program. Applications must be completed by July 31, 2013, 9:00 A.M. (Pacific Time). Apply here.
For broad information about the new Kinect check out Wired's first look video.
Comments (0)
This post does not have any comments. Be the first to leave a comment below.
---
Post A Comment
You must be logged in before you can post a comment. Login now.
Featured Product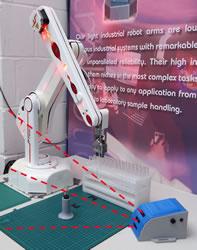 ST Robotics have decades of experience in industrial robots having sold hundreds of robots over the years. The company has 3 main models, R12, R17 and R19 all using a unique simple industrial technology that dramatically reduces costs resulting in the lowest priced industrial robots available. The same uncomplicated technology vastly improves reliability. ST backs this up with a 2 year warranty. Typical applications are routine testing, sample handling and also education. The software is a different paradigm from most robots. It is command based; you type a command and see immediate action. Programming is a building block approach, building confidence as you program in small 'mind-sized bytes'. ST offers free unlimited technical support.