Linkbot Modular Robotic Platform Kickstarter
Each robot has three buttons for user interface and a 3-axis accelerometer. The brain behind all these features is the ATmega128RFA1 by Atmel, running at 16MHz. It integrates an 8-bit AVR microcontroller with an 802.15.4-compliant and ZigBee-capable radio transceiver operating in the 2.4GHz band. Out of the box, it communicates at 250kbps over the air, but with custom firmware you can enable speeds of up to 2Mbps for an 8X increase in throughput.
Atmel AVR Microcontroller: Compatible with Arduino so you can re-flash with your own firmware using the on-board bootloader
ZigBee-Capable Radio: Communicate wirelessly with an 802.15.4-compliant radio, create mesh networks, control and monitor remotely
Multi-Color (RGB) LED: Select from a full spectrum of colors
3-Axis Accelerometer: Detect free-falls, bumps, tilt angles
Buzzer: Play notes or complete tunes, give audio responses to inputs
RJ11 (6P4C) Expansion Connector: Use a standard phone cable to connect our Bluetooth/breakout boards or your own electronics to your Linkbot's power and I2C bus
3x Buttons - Easily control Linkbot modes and functions or write custom functions for button presses
Micro-USB Connector: Connect to a computer or charger with a standard Micro-USB cable
Rechargeable Lithium-Ion Battery: Run your Linkbot for over 3 hours for most applications before having to charge
High Torque:Weight-ratio Motors: Light-but-strong motors produce up to 100oz-in of torque
Absolute Encoding: Precisely control and measure speeds and angles down to 0.5 degrees
BaroboLink Software: Graphical interface lets you run programs, actuate motors and read sensors on your computer
Polycarbonate Housing: Super-durable, drop-tested from second-story building (not recommended) so it can handle your demanding projects
SnapConnector Mounting Surfaces: Quickly connect and remove wheels, connecting plates, grabbers, even multiple Linkbots; or connect your own accessories with standard screws
Comments (0)
This post does not have any comments. Be the first to leave a comment below.
---
Post A Comment
You must be logged in before you can post a comment. Login now.
Featured Product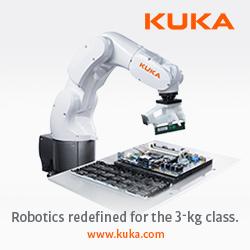 Great advances often start with small steps - in manufacturing cells measuring only 600 × 600 mm. Here, the KR 3 AGILUS is in its element. Particularly in the case of small parts and products which must be produced in a minimum of space. KUKA expertise, concentrated into the smallest of spaces, is setting new standards for the 3-kg class. The lightweight robot masters various tasks with agility, dynamism and maximum precision, leading to high flexibility in production - even when it comes to extremely narrow spaces.