Leap Motion V2 Tracking
From Leap Motion's developer blog:
V2 retains the speed and positional accuracy found in V1, but the software also now tracks the actual joints and bones inside each of the user's fingers. This leads to some immediate benefits over V1:
Finger and hand labels – every finger, hand, and joint now has anatomical labels like 'pinky', 'left hand', and 'proximal phalanges'
Occlusion robustness – fingers are tracked even when they're not seen by the controller, as might happen if you turned your hands completely vertically or intertwined the fingers of your left and right hands
Massively improved resistance to ambient infrared light – sunlight, powerful halogens, etc.
Much more granular data for developers about the user's hands and fingers – 27 dimensions per hand, in addition to special parameters like grab/pinch APIs
Comments (0)
This post does not have any comments. Be the first to leave a comment below.
---
Post A Comment
You must be logged in before you can post a comment. Login now.
Featured Product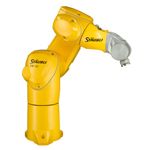 TX2 series of robots: the next generation of fast and precise 6-axis robots. This new robot range is redefining performance with the optimum balance of speed, rigidity, size and envelope. Those pioneer robots can be used in all areas, including sensitive and restrictive environments thanks to their unique features. Known worldwide for the quality of our design and innovation for more than a century, the Stäubli Group has brought its renowned engineering expertise and technological ingenuity to the forefront of robotics. Since 1982, we have built a highly regarded robotics business, and more significantly, transformed the way thousands of manufacturing operations perform. Today Stäubli Robotics is a leading player in robotics around the world, consistently delivering engineering as effective and reliable as our service and support.