Leap Motion V2 Tracking
From Leap Motion's developer blog:
V2 retains the speed and positional accuracy found in V1, but the software also now tracks the actual joints and bones inside each of the user's fingers. This leads to some immediate benefits over V1:
Finger and hand labels – every finger, hand, and joint now has anatomical labels like 'pinky', 'left hand', and 'proximal phalanges'
Occlusion robustness – fingers are tracked even when they're not seen by the controller, as might happen if you turned your hands completely vertically or intertwined the fingers of your left and right hands
Massively improved resistance to ambient infrared light – sunlight, powerful halogens, etc.
Much more granular data for developers about the user's hands and fingers – 27 dimensions per hand, in addition to special parameters like grab/pinch APIs
Comments (0)
This post does not have any comments. Be the first to leave a comment below.
---
Post A Comment
You must be logged in before you can post a comment. Login now.
Featured Product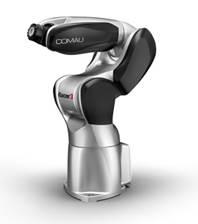 Racer3 is a powerful, high-speed, 6-axis articulated robot featuring a payload of 3kg and a reach of just 630 mm. Built from high-strength aluminum, the newest innovation in Comau robotics is lightweight and can be easily mounted on benches, walls, ceilings or on inclined supports. The third robot within the award-winning Racer family, Racer3 is Comau's response to the growing demand for fast, cost-effective robotic automation within small to medium-sized enterprises and emerging countries. Racer3 is intended for general industry use to increase productivity and reduce overall costs by automating industrial applications. It combines field-proven technology and enhanced dexterity with a keen focus on safety, design and product aesthetics. With a streamlined design and brushed metal exterior, the new powerhouse of a robot combines beauty and speed together with absolute precision and repeatability. Primary applications include assembly, material handling, machine tending, dispensing and pick & place.