A problem-solving approach IT workers should learn from robotics engineers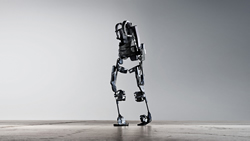 Greg Nichols for ZDNet: Google-owned Boston Dynamics got some bad news in the final days of 2015. After years of development and intensive field trials, the Massachusetts-based robotics company learned that the U.S. Marines had decided to reject its four-legged robotic mule, Big Dog. The reason? The thing is too damn noisy for combat, where close quarters and the occasional need for stealth make excess machine noise a liability.
The setback reminded me of a story another group of robotics engineers told me about the development of their breakthrough machine, a robotic exoskeleton that enables paraplegics to walk and soldiers to hump heavy packs without wearing down. It also reminded me of a powerful approach to solving problems and dealing with setbacks that I've encountered again and again reporting on robotics.
Ekso Bionics, which went public in 2015, invented the first viable untethered exoskeleton, one that doesn't need to be plugged into an external power source. Their achievement rests on one engineering breakthrough in particular, and to arrive at it Ekso's engineers had to do something that's surprisingly difficult but incredibly instructive for non-engineers--they had to change the way they thought about their problem. Cont'd...
Comments (0)
This post does not have any comments. Be the first to leave a comment below.
---
Post A Comment
You must be logged in before you can post a comment. Login now.
Featured Product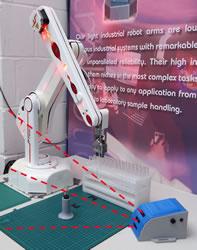 The 6-axis version of the R17HS high speed variant of the R17 robot is now available. As is our policy the 6th axis is an optional bolt-on module. At the same time we have made it even faster and new software eliminates shake and greatly improves repeatability as this video shows. Please see https://www.youtube.com/watch?v=3wG0MeiJ-yE. The video would seem to imply a repeatability of 0.01mm but we are sticking with 0.2mm in the spec. The motor specialist was able to tune the motors from the other side of the pond. My first reaction when we put power on and entered the first commands was to jump back in amazement (and maybe an expletive). Tip speed is now 3m/s; that's 3 times as fast as its nearest competitor yet costs half the price. I love it when a plan comes together.