Image Processing 101
Sher Minn Chong wrote a good introductory to image processing in Python:
In this article, I will go through some basic building blocks of image processing, and share some code and approaches to basic how-tos. All code written is in Python and uses OpenCV, a powerful image processing and computer vision library...
... When we're trying to gather information about an image, we'll first need to break it up into the features we are interested in. This is called segmentation. Image segmentation is the process representing an image in segments to make it more meaningful for easier to analyze3.
Thresholding
One of the simplest ways of segmenting an image isthresholding. The basic idea of thresholding is to replace each pixel in an image with a white pixel if a channel value of that pixel exceeds a certain threshold... (full tutorial) (iPython Notebook)
Comments (0)
This post does not have any comments. Be the first to leave a comment below.
---
Post A Comment
You must be logged in before you can post a comment. Login now.
Featured Product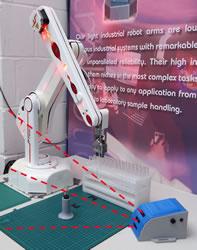 The 6-axis version of the R17HS high speed variant of the R17 robot is now available. As is our policy the 6th axis is an optional bolt-on module. At the same time we have made it even faster and new software eliminates shake and greatly improves repeatability as this video shows. Please see https://www.youtube.com/watch?v=3wG0MeiJ-yE. The video would seem to imply a repeatability of 0.01mm but we are sticking with 0.2mm in the spec. The motor specialist was able to tune the motors from the other side of the pond. My first reaction when we put power on and entered the first commands was to jump back in amazement (and maybe an expletive). Tip speed is now 3m/s; that's 3 times as fast as its nearest competitor yet costs half the price. I love it when a plan comes together.