How Sensors, Robotics And Artificial Intelligence Will Transform Agriculture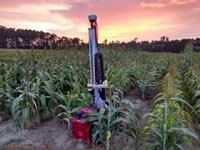 Jennifer Kite-Powell, Contributor for Forbes: The world population is expected to reach 9.7 billion by 2050. China and India, the two largest countries in the world, have populations totalling around one billion. In four years, by 2022, India is predicted to have the largest population in the world, surpassing China.
This means we need new ways to grow food that are smarter and helps regulate our use of land, water and energy in order to feed the planet and avoid a global food crisis. Researchers at Carnegie Mellon University's Robotics Institute believe the answer lies in sensors, artificial intelligence (AI) and robots.
In a new initiative called FarmView, researchers are working to combine sensors, robotics and artificial intelligence to create a fleet of mobile field robots they hope will improve plant breeding and crop-management practices. Full Article:
Comments (0)
This post does not have any comments. Be the first to leave a comment below.
---
Post A Comment
You must be logged in before you can post a comment. Login now.
Featured Product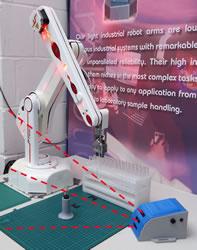 The 6-axis version of the R17HS high speed variant of the R17 robot is now available. As is our policy the 6th axis is an optional bolt-on module. At the same time we have made it even faster and new software eliminates shake and greatly improves repeatability as this video shows. Please see https://www.youtube.com/watch?v=3wG0MeiJ-yE. The video would seem to imply a repeatability of 0.01mm but we are sticking with 0.2mm in the spec. The motor specialist was able to tune the motors from the other side of the pond. My first reaction when we put power on and entered the first commands was to jump back in amazement (and maybe an expletive). Tip speed is now 3m/s; that's 3 times as fast as its nearest competitor yet costs half the price. I love it when a plan comes together.