From Alex Churchill:
In the discussion on this site I assemble a Universal Turing Machine from Magic: the Gathering cards.
But doesn't Magic involve the players making lots of choices?
Normally, yes, it does. But occasionally in normal gameplay you get a sequence of three or four events in a row that are forced to happen by the cards and the rules of the game. The machine below just extends this idea to millions of forced choices in a row.
The idea of my Magic Turing machine is that the players do nothing at all, except when the game offers them a choice.
Once the in-game "machine" has started, processing continues without requiring any choices from the players, with one category of exceptions: Some of the cards in the machine say "You may [do X]. If you do, [Y happens]." In these cases, the machine arranges that the players will be able to do X, in precisely one way. It just requires the players to always choose to take the game up on any options they're offered... (cont'd)
Records 1 to 1 of 1
Featured Product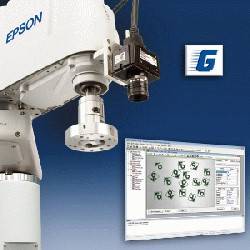 EPSON Robots is the global leader in PC controlled precision factory automation, with an installed base of over 45,000 robots and a product line of hundreds of models of easy to use SCARA, Cartesian and 6 axis robots based on a common PC based controls platform. EPSON offers powerful options such as Vision Guide, Conveyor Tracking, .Net Connectivity, GUI Builder, Force Sensing, DeviceNet, Profibus, EtherNet/IP, Ethernet I/O and more. Building on a 30 year heritage, EPSON Robots delivers robots for precision assembly and material handling applications in the automotive, medical device, appliance, biotechnology, consumer product, electronics, food, pharmaceutical, plastics, semiconductor, and other industries. For more information, visit us at www.epsonrobots.com , or contact us directly at +1.562.290.5910