Here are a few projects we think are worth looking into. Be careful... it is crowdfunding.

L Hetherington for | RoboticsTomorrow
Here are a few projects we think are worth looking into. Be careful... it is crowdfunding:
Ohbot2 - A Robot Head to program from your PC
Ohbot2 is an affordable kit robot and graphical software that works with your PC. It comes with an Arduino-compatible servo controller... (from £99, ends Nov 15, 2015)
Gest: Work With Your Hands
Gest lets you work with your hands in a more intuitive way. Switch between apps just by twitching your finger. Point at your screen to move the mouse around. Twist your palm to adjust sliders in Photoshop. Rotate a 3D object by literally grabbing it and rotating your hand. You don't have to think about what you're doing, just do it... (starting at $149 USD, ends Nov 28 2015)
Makerarm-The first robotic arm that makes anything, anywhere
Makerarm is multi-purpose
Makerarm works with interchangeable heads for countless applications.
It 3D prints: Makerarm is not confined to a box and can 3D print with both filament and resin.
It carves and mills: Makerarm includes high-speed desktop milling (light duty) and carving. You can mill on a variety of materials including plastics, wood, and soft metals right on your desktop. You can even hook up heavy duty flex shaft tools such as the Dremel Fortiflex to Makerarm for power-carving, grinding, or shaping applications (with speeds up to 23,000 RPM!).
It laser engraves: Makerarm's high power 500mW laser head (405nm) engraves and etches on plastics, wood, leather, cardboard, and more.
It picks and places: Choose from vacuum pump coupled suction cups, electromagnetic heads, or grippers to carry out pick and place operations.
It assembles: With the assembly heads, you can automatically place and fasten screws, carry out gluing, and perform pick and place functions.
It's a PCB fab: PCB milling, drilling, solder-paste dispensing, pick and place assembly (PCBA), and automated soldering take the hassle out of prototyping... (starting at $1,199, ends Nov 10 2015)
---
Comments (0)
This post does not have any comments. Be the first to leave a comment below.
---
Post A Comment
You must be logged in before you can post a comment. Login now.
Featured Product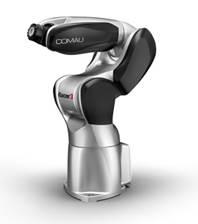 Racer3 is a powerful, high-speed, 6-axis articulated robot featuring a payload of 3kg and a reach of just 630 mm. Built from high-strength aluminum, the newest innovation in Comau robotics is lightweight and can be easily mounted on benches, walls, ceilings or on inclined supports. The third robot within the award-winning Racer family, Racer3 is Comau's response to the growing demand for fast, cost-effective robotic automation within small to medium-sized enterprises and emerging countries. Racer3 is intended for general industry use to increase productivity and reduce overall costs by automating industrial applications. It combines field-proven technology and enhanced dexterity with a keen focus on safety, design and product aesthetics. With a streamlined design and brushed metal exterior, the new powerhouse of a robot combines beauty and speed together with absolute precision and repeatability. Primary applications include assembly, material handling, machine tending, dispensing and pick & place.