Here are a few projects we think are worth looking into. Be careful... it is crowdfunding.

L Hetherington for | RoboticsTomorrow
Here are a few projects we think are worth looking into. Be careful... it is crowdfunding:
Ohbot2 - A Robot Head to program from your PC
Ohbot2 is an affordable kit robot and graphical software that works with your PC. It comes with an Arduino-compatible servo controller... (from £99, ends Nov 15, 2015)
Gest: Work With Your Hands
Gest lets you work with your hands in a more intuitive way. Switch between apps just by twitching your finger. Point at your screen to move the mouse around. Twist your palm to adjust sliders in Photoshop. Rotate a 3D object by literally grabbing it and rotating your hand. You don't have to think about what you're doing, just do it... (starting at $149 USD, ends Nov 28 2015)
Makerarm-The first robotic arm that makes anything, anywhere
Makerarm is multi-purpose
Makerarm works with interchangeable heads for countless applications.
It 3D prints: Makerarm is not confined to a box and can 3D print with both filament and resin.
It carves and mills: Makerarm includes high-speed desktop milling (light duty) and carving. You can mill on a variety of materials including plastics, wood, and soft metals right on your desktop. You can even hook up heavy duty flex shaft tools such as the Dremel Fortiflex to Makerarm for power-carving, grinding, or shaping applications (with speeds up to 23,000 RPM!).
It laser engraves: Makerarm's high power 500mW laser head (405nm) engraves and etches on plastics, wood, leather, cardboard, and more.
It picks and places: Choose from vacuum pump coupled suction cups, electromagnetic heads, or grippers to carry out pick and place operations.
It assembles: With the assembly heads, you can automatically place and fasten screws, carry out gluing, and perform pick and place functions.
It's a PCB fab: PCB milling, drilling, solder-paste dispensing, pick and place assembly (PCBA), and automated soldering take the hassle out of prototyping... (starting at $1,199, ends Nov 10 2015)
---
Comments (0)
This post does not have any comments. Be the first to leave a comment below.
---
Post A Comment
You must be logged in before you can post a comment. Login now.
Featured Product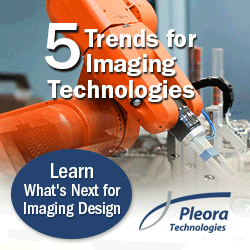 Technology development moves at a dizzying pace and the machine vision industry is no exception. Specific to imaging there is consistent innovation aimed at improving efficiencies, costs, and intelligence. Over the past 12 months, for example, new USB3 Vision™ products have driven the design of higher bandwidth, plug-and-play solutions for imaging applications. What's next for machine vision? This article examines five trends that are expected to influence imaging system design. Sign up at right to receive news and updates on the latest vision technology for medical imaging and you'll receive Five Trends for Imaging Technologies free!