Intended for 5- and 6-axis R12 articulated robot arms, ST Robotics' E Series Grippers utilize mini integrated motor/lead screw drives and are available with stand-alone MCUs to accommodate any make of robot.
ST Robotics announced today the availability of their new electric grippers for the ST Robotics R12 five and six-axis articulated robot arms. Fast, strong, compact, and stylish, these grippers utilize miniature precision integrated motor/lead screw drives.

Based on the lack of affordable, commercially available electric grippers in the current marketplace, these mini-electric grippers were designed with the user in-mind and offer a unique combination of affordability and flexibility. Starting at a low $875, the mini-electric grippers are available OEM with stand-alone micro-controllers for any make of robot, thus eliminating the need, time, and cost for a user to build a customized gripper.
The E Series Grippers include the E1 Fulcrum (scissors action) with long fingers and a closing force of 10N. When fully open, these tips are 30mm apart. The E2 Fulcrum gripper is similar, but has short jaws for the user to attach his own fingers, also with a closing force of 10N. The E3 Parallel gripper has a closing force of 35N with a 6mm stroke; open, 10mm, closed 4mm. These same stroke and jaw sizes offer a direct substitute for SMC's pneumatic MHZ2-10D.
"ST Robotics' parallel electric gripper enables you to easily manipulate small objects with high precision in pick and place applications," says customer Marcus Wallin of the KTH Royal Institute of Technology, Sweden. "With its customizable fingers you can tailor it to handle your specific objects in the best way. The gripper has proven to be very reliable without any complications during its service time. The compact and light design allows for fast movements and reaches in narrow spaces", added Wallin.
ST Robotics also manufactures an electric gripper suitable for its ST R17 750mm five-axis jointed arm. Pneumatic grippers for both the R17 and the R12 are also available, for under $1,000.
ST Robotics, widely known for "maximizing your physical and fiscal reach", has offices in Princeton, New Jersey and Cambridge, England. One of the first manufacturers of bench-top robot arms, ST Robotics has been providing affordable, easy-to-use, ready-to-go, boxed robots for nearly 30 years. ST's robots are utilized the world over by companies and institutions such as Lockheed-Martin, Amazon, Motorola, Honeywell, MIT, NASA, Pfizer and Sony, to name a few. The numerous applications for ST's robots benefit the manufacturing, nuclear, pharmaceutical, laboratory and semiconductor industries.
For additional information on ST Robotics, contact:
sales1@strobotics.com
(609) 584 7522
www.strobotics.com
For press inquiries, contact:
Joanne Pransky
World's First Robotic Psychiatrist®
drjoanne@robot.md
1-561-289-3046
Featured Product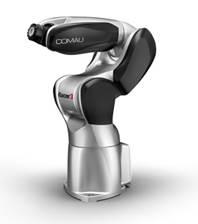 Racer3 is a powerful, high-speed, 6-axis articulated robot featuring a payload of 3kg and a reach of just 630 mm. Built from high-strength aluminum, the newest innovation in Comau robotics is lightweight and can be easily mounted on benches, walls, ceilings or on inclined supports. The third robot within the award-winning Racer family, Racer3 is Comau's response to the growing demand for fast, cost-effective robotic automation within small to medium-sized enterprises and emerging countries. Racer3 is intended for general industry use to increase productivity and reduce overall costs by automating industrial applications. It combines field-proven technology and enhanced dexterity with a keen focus on safety, design and product aesthetics. With a streamlined design and brushed metal exterior, the new powerhouse of a robot combines beauty and speed together with absolute precision and repeatability. Primary applications include assembly, material handling, machine tending, dispensing and pick & place.