Self-guided, autonomous robot saves time and labor by automatically unloading same size and mixed size products on semi-truck trailers and ocean freight containers
ELK GROVE VILLAGE, Ill.--Wynright Corporation, a leading independent, U.S.-based provider of intelligent material handling systems, today revealed it has added a new, patented Robotic Truck UNloader (RTU) to its extensive line of robotic solutions for warehouse and distribution center (DC) applications.

The Wynright RTU is ideal for boxes, bales, containers, tires and a variety of other products. One of the first of its kind for materials handling, it is a self-guided, autonomous robot that can be used to unload a wide range of floor-loaded products on semi-truck trailers or ocean freight containers.
The Wynright RTU's advanced perception technology allows it to navigate into the trailer or container and sense its surroundings, as well as the size and shape of cases or even irregular products. It then unloads them onto a telescoping 24V motor driven roller conveyor to transfer product back into the warehouse or DC.
"While much of the warehouse has benefitted from automation, the loading dock is still primarily a manual operation," said Kevin Ambrose, CEO at Wynright Corporation. "It is very difficult, labor-intensive work, often in intense heat or cold, which can make it a limiting factor to the overall efficiency of the warehouse. These working conditions, coupled with handling heavy product can also lead to injuries among warehouse personnel. Wynright's new RTU solves those issues by setting a steady, reliable pace for unloading that allows warehouse and DC managers to plan workflow more effectively and keep products moving through the system while reducing the physical toll of manual labor on their people."
One of the keys to Wynright's RTU is its ability to sense the sidewalls, floor and product façade as it moves forward to complete the unloading process. Its perception-vision technology maps out the shape and dimensions of the next carton or object to be unloaded and guides the robot accordingly. It is this perception ability that allows it to pick cases in regular or irregular patterns, as well as mixed product sizes rather than being limited to same-size cartons or products.
Options on the Wynright RTU include:
*The ability to track weights and sizes of cases
*The ability to scan barcodes
*A bypass process to handle odd-sized components
*A paging system to alert operators to error conditions
Each RTU typically moves between a dock pair. The result is that the next trailer or container can be set up while the RTU is unloading the current one. A single operator can manage as many as three RTUs at once, greatly reducing labor costs while improving efficiency and operator safety.
"Wynright has brought continuous innovation to the warehouse and distribution center for more than 40 years," said Ambrose. "The RTU is just one more example of our engineering expertise overcoming what seemed like an unsolvable problem and provide savings in time and labor. We are proud to add this product to our comprehensive line of robotic equipment."
Wynright Corporation recently earned the new Certified Robot Integrator designation from the prestigious Robotic Industries Association (RIA), the industry's foremost trade group. It is one of only a handful of integrators to have earned this distinction.
About Wynright
Wynright Corporation is the nation's leading independent, U.S.-based provider of intelligent material handling systems. With more than 200 engineers in-house, the company designs, manufactures, integrates and installs the full spectrum of intralogistics solutions, offering both Wynright-branded and third-party equipment to meet customer needs. These include leading-edge conveyor and sortation systems, voice- and light-directed order fulfillment equipment, a suite of warehouse controls and execution software, robotics, mezzanines, and structures, all backed by critical round-the-clock service and support.
Since its founding in 1972, Wynright has been a trusted partner to some of the world's largest and fastest-growing companies, showing them how to use their space more efficiently to deliver improved productivity, today and tomorrow. For more information on our services, technology and product portfolio, please visit www.wynright.com.
Featured Product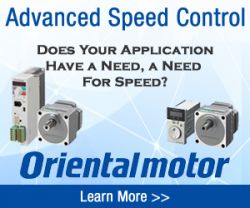 The AZ Series offers closed loop control, substantially reduces heat generation from the motor and incorporates a newly developed Absolute Sensor for absolute-type positioning. The new Absolute Sensor operates autonomously, without additional battery back-up or external sensors to buy. The AZ Series driver offers advanced and powerful operational programing and function control through our MEXE02 software (available as a free download). With no additional sensors, high speed return-to-home or restart without homing is possible and even common repeat move functions can be programed into the driver, saving wiring, lowering costs, increasing throughput and saving controller command functions. The AZ Series is offered with built-in controller or pulse input type with single-phase 100-120 VAC, single-phase/three-phase 200-240 VAC or 24/48 VDC input. Round shaft motor only type or four different geared types are available as standard product, including our newest Harmonic Planetary gear (HPG) with a center shaft or flange mount. All cables are included. Packages start from $762.