These sensors are ideal for industrial, medical and off-highway vehicle applications
Southborough, MA… Novotechnik, U.S. introduces the Vert-X 2400 Series of compact angle sensors. Diameter of the housing base is 24 mm. These sensors convert rotational angle into a voltage output.

Vert-X 2400 Series sensors are available in single and fully redundant versions. Measurement range is 0 to 360° with repeatability of 0.1°.
Other key Vert-X 2400 Series specifications include 12-bit resolution and linearity of ±1 % of measurement range. The sensors are sealed to IP 67, life is ≥ 20 million movements and MTTF is over 600 years.
These sensors are ideal for industrial, medical and off-highway vehicle applications with an operating temperature range of -40 to +125°C and high immunity to emissions -meeting or exceeding five EN 61000 and two EN 55000 standards.
To learn more contact Novotechnik U.S. at 508-485-2244 or view specific Vert-X 2400 Series information at www.novotechnik.com/vx24
Featured Product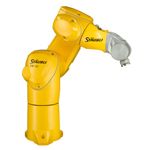 TX2 series of robots: the next generation of fast and precise 6-axis robots. This new robot range is redefining performance with the optimum balance of speed, rigidity, size and envelope. Those pioneer robots can be used in all areas, including sensitive and restrictive environments thanks to their unique features. Known worldwide for the quality of our design and innovation for more than a century, the Stäubli Group has brought its renowned engineering expertise and technological ingenuity to the forefront of robotics. Since 1982, we have built a highly regarded robotics business, and more significantly, transformed the way thousands of manufacturing operations perform. Today Stäubli Robotics is a leading player in robotics around the world, consistently delivering engineering as effective and reliable as our service and support.