Rapid Imaging Software will benefit from Bird's Eye owners experience with unmanned systems.
Albuquerque, NM May 05, 2015

Rapid Imaging Software, Inc. announced a strategic partnership today with Bird's Eye Solutions. Bird's Eye Solutions based in Middleton Wisconsin, offers film and development services throughout the US. Bird's Eye Solutions recently coordinated an SUAS flight within 5 miles of an airport tower.
Rapid Imaging Software is in development on several products for the commercial drone/SUAS market and will be using Bird's Eye Solutions for product development on augmented reality and obstacle management systems.
Mike Abernathy of Rapid Imaging Software notes, "We are working on several products will have a big impact in a variety of fields; firefighting, law enforcement, power line and pipeline management. We will be able to get these products to market more quickly through this partnership."
A representative from Bird's Eye Solutions will be at the Rapid Imaging Software booth (1352) at AUVSI's Unmanned 2015 conference in Atlanta. For more information visit: http://www.rapidimaging.net or http://www.birdseyesolutions.net.
Featured Product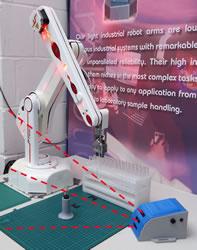 ST Robotics have decades of experience in industrial robots having sold hundreds of robots over the years. The company has 3 main models, R12, R17 and R19 all using a unique simple industrial technology that dramatically reduces costs resulting in the lowest priced industrial robots available. The same uncomplicated technology vastly improves reliability. ST backs this up with a 2 year warranty. Typical applications are routine testing, sample handling and also education. The software is a different paradigm from most robots. It is command based; you type a command and see immediate action. Programming is a building block approach, building confidence as you program in small 'mind-sized bytes'. ST offers free unlimited technical support.