Rapid Imaging Software will benefit from Bird's Eye owners experience with unmanned systems.
Albuquerque, NM May 05, 2015

Rapid Imaging Software, Inc. announced a strategic partnership today with Bird's Eye Solutions. Bird's Eye Solutions based in Middleton Wisconsin, offers film and development services throughout the US. Bird's Eye Solutions recently coordinated an SUAS flight within 5 miles of an airport tower.
Rapid Imaging Software is in development on several products for the commercial drone/SUAS market and will be using Bird's Eye Solutions for product development on augmented reality and obstacle management systems.
Mike Abernathy of Rapid Imaging Software notes, "We are working on several products will have a big impact in a variety of fields; firefighting, law enforcement, power line and pipeline management. We will be able to get these products to market more quickly through this partnership."
A representative from Bird's Eye Solutions will be at the Rapid Imaging Software booth (1352) at AUVSI's Unmanned 2015 conference in Atlanta. For more information visit: http://www.rapidimaging.net or http://www.birdseyesolutions.net.
Featured Product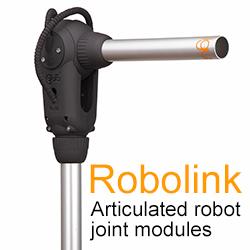 Robolink: Articulated joint modules for robots. igus® now offers a lightweight, maintenance- and corrosion-free range of robot joints for humanoid systems or other automated applications. The carbon-fiber plastic joints can rotate and oscillate freely via four wire ropes. No more expensive milling, cutting or DIY systems. Moving mass is reduced to a minimum. The actuators (engines, pneumatics and hydraulics) and the control module (DP, PC) are kept separate. Contact igus® for more information and free samples.