PI's HS Series solution delivers maximum throughput, precise positioning, and extreme straightness / flatness, all without sacrificing system stiffness.
Auburn, MA June 18, 2015

Nanopositioning specialist PI (Physik Instrumente) L.P., a leader and solution provider in motion control and positioning components and systems, introduces the new PIglide HS planar XY air bearing stage, designed specifically to maximize throughput while providing the ultimate level of precision. This stage is ideal for wafer inspection and scribing applications, as well as other ultra-precision motion applications, such as flat panel inspection.
Why Use Planar Air Bearings in Precision Positioning Equipment?
Air bearing positioners float on air to provide completely frictionless motion, resulting in negligible hysteresis or reversal error, excellent velocity stability, and zero-wear of mechanical components. Due to the surface averaging effect, straightness and flatness are significantly better than with conventional mechanical bearings. Planar stages further improve the performance because all motion on the XY axes is defined by the precisely ground granite surface. Unlike stacks of individual single-axis stages, with a planar stage, no bending moments are introduced when the load on the Y stage moves off-center.
Watch Video Animation:
https://www.youtube.com/embed/l2B12U6NtQw?rel=0
Special Preloading Improves Stage Performance
The PIglide HS uses magnetically preloaded air-bearings on the Y axes, and a vacuum preloaded X-Y puck that floats on the reference surface. The cross-beam mounts to the Y axis via a highly engineered flexural coupling that provides yaw-compliance without sacrificing system stiffness.
H-Bridge Design with Active Yaw Control
The gantry axis is a dual air-bearing H-bridge design that incorporates dual linear motors and dual linear encoders. This improves turnaround performance while providing the added benefit of orthogonality/yaw/straightness control. Ironless linear motors provide smooth motion and no cogging or attractive forces.
Both incremental and absolute encoder options are available. The PIglide HS incorporates three high-accuracy linear encoders, one for the bridge axis and two for the gantry axis. Each encoder is mounted so that the scale centerline is as close to the working plane as possible to reduce Abbe errors.
More Information, Specifications and Datasheet:
http://www.pi-usa.us/products/Air_Bearing_Stages/index.php?onl_prweb#XY_Planar
Advanced Control Algorithms
The PIglide HS is coupled with industry-leading digital controls that offer superior servo update rates (up to 5 kHz), advanced control algorithms to improve dynamic performance and error compensation, and a wide suite of software development tools.
Applications of the HS Planar
Metrology, wafer inspection and scribing applications, ultra-precision motion applications, such as flat panel inspection.
Features & Advantages
* Active yaw and straightness compensation provides superior straightness of motion
* Travels up to 500mm x 1000mm
* Advanced servo algorithms for optimum stability, move and settle, and scanning performance
* Absolute linear encoders available
PI (Physik Instrumente) L.P. l 16 Albert Street l Auburn, MA 01501 l http://www.pi-usa.us l info(at)pi-usa(dot)us
Featured Product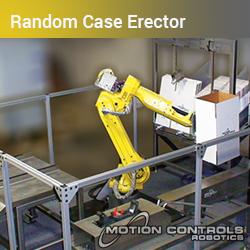 Random Case Erectors are ideal for fulfillment centers and other end-of-line packaging needs. Save money by eliminating changeover downtime. Reduce ergonomic injuries by eliminating repetitive manual tasks. The Random Robotic Case Erector System includes: • FANUC M20iA/20 Robot • Combi gravity case magazine - holds 2 box sizes • Combi bottom flap folder with integrated 3M case sealing head. • Fixed robot base, anchored to the floor • Flexible end of arm tool to pick and erect multiple case sizes to eliminate changeover downtime • System wiring and controls • Color 7.5" touchscreen HMI display for selecting case size • Perimeter guarding with safety interlocks on doors • Programming for Robot, PLC/PMC, HMI and Vision • Complete documentation in electronic format • On-site training and support • Compliance with all applicable robotic safety standards. Alternate safety configuration may be available to allow an operator to changeover a case size in one magazine while the robot continues to work in other magazines. Contact Motion Controls Robotics to learn more about how to implement this system into your current end-of-line operations.