OCTOPUZ recently put a KUKA KR 60 robot with KRC4 controller and an IPG LaserMech auto-focusing head to the test and the results were phenomenal.
Faster programming and unparalleled precision are just two areas where OCTOPUZ is poised to transform laser cutting applications across the manufacturing industry.

In-House Solutions recently put a KUKA KR 60 robot with KRC4 controller and an IPG LaserMech auto-focusing head to the test and the results were phenomenal. Watch this latest video on the OCTOPUZrobotics channel on YouTube. It shows the KUKA robot, programmed offline using OCTOPUZ, laser cutting stamped automotive parts with a speed, accuracy and flexibility that could revolutionize the way companies perform these types of tasks.
OCTOPUZ Kuka Laser CuttingThe application was programmed with KUKA CNC code, which allows for larger and more accurate programs. Using OCTOPUZ software allowed the programming to be completed from a CAM file in minutes rather than in days of manual programming, and its simulation feature ensured that the robot was collision-checked against the part, tool and surroundings before running the program. Joint limits, singularities and reach issues were also corrected long before code was run on the machine, saving downtime. Safety is always a concern in manufacturing environments, and the potential for injury is dramatically reduced by switching to this type of automated process.
Throughout the operation, all tool on and off commands come from OCTOPUZ, multiple user frames ensure accuracy and the laser power control is dynamic.
OCTOPUZ was created by In-House Solutions to meet the rising needs in the robotics industry, and uses a revolutionary method of combining the offline programming of robots with manufacturing process simulation. This robotic software package is a mainstream, versatile, powerful and effective solution for robotic challenges.
Here are some of the ways companies are benefitting by using OCTOPUZ:
- Programming time is substantially faster
- Robots can still run while the next part is being programmed, minimizing downtime and lost revenue
- Collisions and unpredictable motions can be avoided ahead of time
- Complex paths can be made using any CAM system
- The tool set can run perpendicular to the surface if possible
- Running code is fully customizable
- Program and simulate multiple robots of mixed brands, simultaneously and in any configuration
OCTOPUZ is the intelligent offline robot programming and simulation software ideal for any path-sensitive application. To learn more about OCTOPUZ or to request a free personalized software demo, visit www.octopuz.com
Featured Product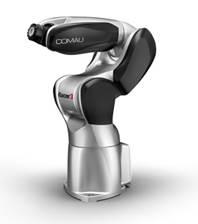 Racer3 is a powerful, high-speed, 6-axis articulated robot featuring a payload of 3kg and a reach of just 630 mm. Built from high-strength aluminum, the newest innovation in Comau robotics is lightweight and can be easily mounted on benches, walls, ceilings or on inclined supports. The third robot within the award-winning Racer family, Racer3 is Comau's response to the growing demand for fast, cost-effective robotic automation within small to medium-sized enterprises and emerging countries. Racer3 is intended for general industry use to increase productivity and reduce overall costs by automating industrial applications. It combines field-proven technology and enhanced dexterity with a keen focus on safety, design and product aesthetics. With a streamlined design and brushed metal exterior, the new powerhouse of a robot combines beauty and speed together with absolute precision and repeatability. Primary applications include assembly, material handling, machine tending, dispensing and pick & place.