The X-LRQ-E Series devices are Zaber's recently released industrial-style stages, combining high load and thrust capabilities in a compact size. The dual-rail design has a low profile measuring only 36 mm high, with a 100 kg load capacity.
The bu
ilt-in motor encoder allows closed-loop operation and slip/stall recovery features with an optional indexed knob for manual control. Like all of Zaber's X-Series products, the X-LRQ-E is able to daisy-chain with other Zaber products, and is able to share a single power supply with multiple X-Series products.
Featured Product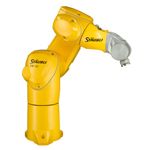 TX2 series of robots: the next generation of fast and precise 6-axis robots. This new robot range is redefining performance with the optimum balance of speed, rigidity, size and envelope. Those pioneer robots can be used in all areas, including sensitive and restrictive environments thanks to their unique features. Known worldwide for the quality of our design and innovation for more than a century, the Stäubli Group has brought its renowned engineering expertise and technological ingenuity to the forefront of robotics. Since 1982, we have built a highly regarded robotics business, and more significantly, transformed the way thousands of manufacturing operations perform. Today Stäubli Robotics is a leading player in robotics around the world, consistently delivering engineering as effective and reliable as our service and support.