The X-LRQ-E Series devices are Zaber's recently released industrial-style stages, combining high load and thrust capabilities in a compact size. The dual-rail design has a low profile measuring only 36 mm high, with a 100 kg load capacity.
The bu
ilt-in motor encoder allows closed-loop operation and slip/stall recovery features with an optional indexed knob for manual control. Like all of Zaber's X-Series products, the X-LRQ-E is able to daisy-chain with other Zaber products, and is able to share a single power supply with multiple X-Series products.
Featured Product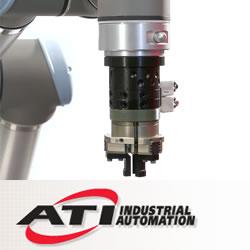 The ATI Robotic Tool Changer provides the flexibility to automatically change end-effectors or other peripheral tooling. These tool changers are designed to function reliably for millions of cycles at rated load while maintaining extremely high repeatability. For this reason, the ATI Tool Changer has become the number-one tool changer of choice around the world. ATI Tool Changer models cover a wide range of applications, from very small payloads to heavy payload applications requiring significantly large moment capacity.