Zaber's new product, the X-NMS-E Series, simplifies motion control by incorporating a built-in controller and motor encoder. Capable of over 25,000 microsteps per revolution and up to 2800 rpm, this compact stepper motor includes a detachable home sensor and small magnet. An additional, optional away sensor is also available.
Like a
ll of Zaber's X-Series products, the X-NMS-E is able to daisy-chain with other Zaber products, and is able to share a single power supply with multiple X-Series products.
Featured Product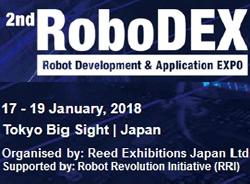 RoboDEX, a comprehensive trade show for robots, will be held at the center of robot/robotics industry, Tokyo, 2018. Covering from development technology of robots to application of robots, it attracts all the professionals involved in robot industry and professionals considering utilizing robots.