Zaber's new product, the X-NMS-E Series, simplifies motion control by incorporating a built-in controller and motor encoder. Capable of over 25,000 microsteps per revolution and up to 2800 rpm, this compact stepper motor includes a detachable home sensor and small magnet. An additional, optional away sensor is also available.
Like a
ll of Zaber's X-Series products, the X-NMS-E is able to daisy-chain with other Zaber products, and is able to share a single power supply with multiple X-Series products.
Featured Product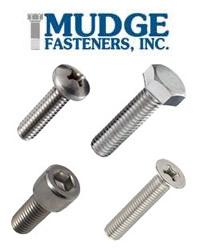 From very small to very large fasteners, in a wide array of materials and platings from stainless steel to cadmium to silver, Mudge Fasteners is a one-stop shop for all Robotics screws, bolts, nuts, washers, inserts, adhesives and more. With over 60,000 products in stock, Mudge also offers custom kitting and packaging, documentation support, specials manufactured to print, performance mockups, fabrication and production consulting.