For the third consecutive year, the positive growth trend continues for the Italian manufacturer
Comau continues its growth in the Robotics sector, and for the third consecutive year has recorded a double-digit increase in articulated robot sales.

Similarly, the results in individual industries reflect the global growth trend, which is even more significant as it underlines the success of Comau's market penetration strategies.
In particular, the increase in 2015 was equally distributed within Automotive and General Industry, the latter of which is where Comau has been investing both at a commercial level and at a product level. The growth, in addition to China, was particularly concentrated in Eastern Europe and within the NAFTA region.
In the APAC region the company has recorded a significant increase in sales thanks in part to the establishment in China of both production facilities and one of the most cutting-edge Innovation Centers within the Comau global network.
Featured Product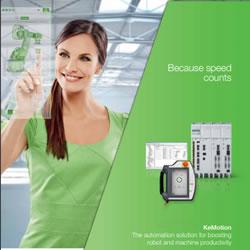 Challenges in the field of visualization are extensive, ergonomics and an intuitive user interface are key factors for efficient operation and monitoring. At KEBA, you will find the right operation solution for every application as a complete package without additional investment. KeTop provides high-performance, application-optimized hardware and software which ensure future reliability. Step-by-step customizing and comprehensive consultation in all questions having to do with visualization allow for maximum differentiation of your HMI solution.