EPSON Robots, a global leader in advanced robotic technology, expands their 6-axis robot lineup with the introduction of the new EPSON C8-Series robots.
EPSON Robots, a global leader in advanced robotic technology, expands their 6-axis robot lineup with the introduction of the new EPSON C8-Series robots.

With more reach, faster speeds, more payload, and our unique SlimLine design, Epson C8, C8L and C8XL robots provide superior performance for even the most demanding and complex applications.
"Our Epson C4-Series robots have been in the market for a couple of years now and have been extremely well received for a wide variety of applications" stated Michael Ferrara, Director of Epson Robots. "One of the key factors for the C4-Series success has been the unique Epson SlimLine Design which results in slimmer arms, less overall weight, and a small footprint while providing high performance motion with higher payload curves."
The new Epson C8-Series includes C8-700, C8L-900 and C8XL-1400 robots with up to 1400mm of reach and maximum payloads of 8Kg. All models are available in standard, Clean/ESD and IP67 protected configurations. As with the C4-Series, the SlimLine design of the C8/C8L/C8XL robots provides exceptionally advanced flexibility. The slim body and compact wrist design allows for greater motion range and less mechanical restrictions. The robots can easily reach into confined and restricted work spaces from many angles with smooth motion not achievable with similar sized competitive models. This makes the C8-Series ideal robots for machine load/unload, material handling and packaging applications along with many others including assembly and dispensing.
Designed for maximum performance, all C8-Series robots use high quality components to achieve high rigidity in a light weight arm. Through Epson's unique QMEMS (TM) vibration sensing technology, Epson C4 and C8-Series arms automatically detect and adjust for vibration and therefore maximize speed and accel/decel rates. This translates to faster cycle times even with heavier payloads as compared to other similarly sized 6-axis models.
Epson C8-Series robots come with our RC700-A controller and provide the ultimate experience in ease of use, power and reliability. In addition, the RC700-A controller also provides our industry leading Epson RC+ Controls software and lots of fully integrated options such as: Vision Guidance, .Net support, Conveyor Tracking, GUI Builder, EtherNet/IP, DeviceNet, Profibus and much more.
Source: http://robots.epson.com/
Featured Product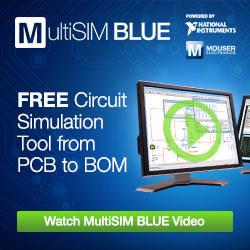 Powered by NI, MultiSIM BLUE Upgrade includes schematic capture, simulation, PCB layout, BOM-to-cart capabilities using only one tool. No more switching between different programs for circuit design. Perform MCU co-simulation. New voltage, current and power probes as well as faster active analysis mode are also available. Plus, it even comes with an expansive database of new components from industry-leading manufacturers. Discover why EDN named MultiSIM BLUE a HOT 100 Product of the Year.