From Vikash Kumar at University of Washington:
Dexterous hand manipulation is one of the most complex types of biological movement, and has proven very difficult to replicate in robots. The usual approaches to robotic control - following pre-defined trajectories or planning online with reduced models - are both inapplicable. Dexterous manipulation is so sensitive to small variations in contact force and object location that it seems to require online planning without any simplifications. Here we demonstrate for the first time online planning (or model-predictive control) with a full physics model of a humanoid hand, with 28 degrees of freedom and 48 pneumatic actuators. We augment the actuation space with motor synergies which speed up optimization without removing flexibility. Most of our results are in simulation, showing nonprehensile object manipulation as well as typing. In both cases the input to the system is a high level task description, while all details of the hand movement emerge online from fully automated numerical optimization. We also show preliminary results on a hardware platform we have developed "ADROIT" - a ShadowHand skeleton equipped with faster and more compliant actuation... (website)
Records 1 to 1 of 1
Featured Product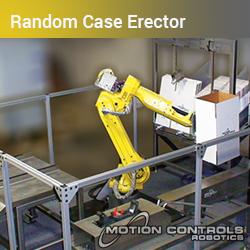 Random Case Erectors are ideal for fulfillment centers and other end-of-line packaging needs. Save money by eliminating changeover downtime. Reduce ergonomic injuries by eliminating repetitive manual tasks. The Random Robotic Case Erector System includes: • FANUC M20iA/20 Robot • Combi gravity case magazine - holds 2 box sizes • Combi bottom flap folder with integrated 3M case sealing head. • Fixed robot base, anchored to the floor • Flexible end of arm tool to pick and erect multiple case sizes to eliminate changeover downtime • System wiring and controls • Color 7.5" touchscreen HMI display for selecting case size • Perimeter guarding with safety interlocks on doors • Programming for Robot, PLC/PMC, HMI and Vision • Complete documentation in electronic format • On-site training and support • Compliance with all applicable robotic safety standards. Alternate safety configuration may be available to allow an operator to changeover a case size in one magazine while the robot continues to work in other magazines. Contact Motion Controls Robotics to learn more about how to implement this system into your current end-of-line operations.