From New York Times:
It seemed like the perfect night life accessory for the South Beach set — an automated robotic parking garage where trendy clubgoers could park their Porsches with a futuristic touch of a button.
Forget hiding your GPS and favorite Fendi sunglasses from a valet who might ding your new alloy wheels; this garage would park cars itself.
Instead, malfunctions lasted for hours. Cars were smashed, and faulty machinery fell several stories to the ground. Sometimes vehicles were stuck for so long that garage operators had to pay for customers' taxis... (full story)
Records 1 to 1 of 1
Featured Product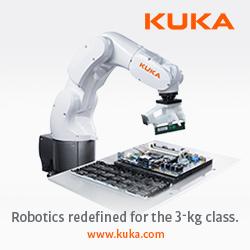 Great advances often start with small steps - in manufacturing cells measuring only 600 × 600 mm. Here, the KR 3 AGILUS is in its element. Particularly in the case of small parts and products which must be produced in a minimum of space. KUKA expertise, concentrated into the smallest of spaces, is setting new standards for the 3-kg class. The lightweight robot masters various tasks with agility, dynamism and maximum precision, leading to high flexibility in production - even when it comes to extremely narrow spaces.