Most of the innovations in automated parking design have come from the architects and developers as they are now more conscious of integrating the garage into the overall design.
From New York Times: It seemed like the perfect night life accessory for the South Beach set — an automated robotic parking garage where trendy clubgoers could park their Porsches with a futuristic touch of a button. Forget hiding your GPS and favorite Fendi sunglasses from a valet who might ding your new alloy wheels; this garage would park cars itself. Instead, malfunctions lasted for hours. Cars were smashed, and faulty machinery fell several stories to the ground. Sometimes vehicles were stuck for so long that garage operators had to pay for customers' taxis... ( full story )
Records 1 to 2 of 2
Featured Product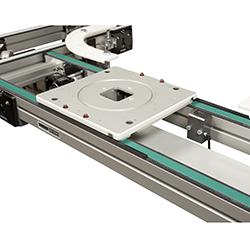 Dorner's 2200 Series Precision Move Pallet Systems feature the latest advancements in pallet traffic management. A unique pin tracking system guides pallets through merges and curves while maintaining product orientation. The fast belt change capability increases efficiency and reduces downtime in assembly automation processes. They are available in lengths up to 25 ft., can handle loads up to 500 lbs. and travel at speeds up to 114 ft/min.