From Sewbo: Sewbo Inc. on Thursday announced that it has achieved the long-sought goal of automated sewing, by using an industrial robot to sew together a T-shirt. This milestone represents the first time that a robot has been used to sew an entire article of clothing.
Despite widespread use in other industries, automation has failed to find a place in apparel manufacturing due to robots' inability to handle limp, flexible fabrics. Sewbo avoids these hurdles by temporarily stiffening fabrics, making it easy for conventional robots to build clothes as if they were made from sheet metal. Afterwards, the process is reversed to produce soft, fully assembled garments.
"Our technology will allow manufacturers to create higher-quality clothing at lower costs in less time than ever before," said Jonathan Zornow, the technology's inventor. "Avoiding labor issues and shortening supply chains will help reduce the complexity and headaches surrounding today's intricate global supply network. And digital manufacturing will revolutionize fashion, even down to how we buy our clothes by allowing easy and affordable customization for everyone."
Sewbo performed their feat using an off-the-shelf industrial robot, which they taught to operate a consumer sewing machine. Having successfully proved its core concept, Sewbo is now expanding its team and working towards commercializing its technology... (company webpage, MIT article)
Records 1 to 1 of 1
Featured Product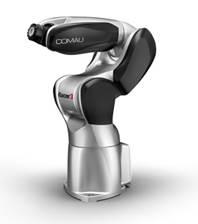 Racer3 is a powerful, high-speed, 6-axis articulated robot featuring a payload of 3kg and a reach of just 630 mm. Built from high-strength aluminum, the newest innovation in Comau robotics is lightweight and can be easily mounted on benches, walls, ceilings or on inclined supports. The third robot within the award-winning Racer family, Racer3 is Comau's response to the growing demand for fast, cost-effective robotic automation within small to medium-sized enterprises and emerging countries. Racer3 is intended for general industry use to increase productivity and reduce overall costs by automating industrial applications. It combines field-proven technology and enhanced dexterity with a keen focus on safety, design and product aesthetics. With a streamlined design and brushed metal exterior, the new powerhouse of a robot combines beauty and speed together with absolute precision and repeatability. Primary applications include assembly, material handling, machine tending, dispensing and pick & place.