Hot Stories
Submitted on 04/21/14, 07:07 AM | Click Here for the full article: MorpHex Thread

MorpHex
From Kåre Halvorsen project on the Lynxmotion forums:
Sphere shaped hexapod that I plan to give the following features:
Roll freely like a ball
Have different sort of locomotion for moving in any direction
Variable inner-body dimensions
Transform from a sphere shape into a hexapod and vice versa
Walk like a hexapod
Project's summary on Robotee and original forum thread.
Submitted on 04/17/14, 05:49 AM | Click Here for the full article: Google Online Security Blog

New Computer Vision Project Can Solve reCAPTCHAs With Over 99% Accuracy
From Google Online Security Blog:
Translating a street address to an exact location on a map is harder than it seems. To take on this challenge and make Google Maps even more useful, we've been working on a new system to help locate addresses even more accurately, using some of the technology from the Street View and reCAPTCHA teams.
This technology finds and reads street numbers in Street View, and correlates those numbers with existing addresses to pinpoint their exact location on Google Maps.
We show that this system is able to accurately detect and read difficult numbers in Street View with 90% accuracy.
Turns out that this new algorithm can also be used to read CAPTCHA puzzles—we found that it can decipher the hardest distorted text puzzles from reCAPTCHA with over 99% accuracy... (cont'd) (full technical paper)
Submitted on 04/14/14, 09:39 AM | Click Here for the full article: Upverter

A World Of Hardware Startups
Upverter has a hardware startup master list and world map. Currently contains around 150 robotics companies, 500+ consumer hardware startups and a list of incubators, venture firms and everything else... (cont'd)
Submitted on 04/07/14, 10:55 AM | Click Here for the full article: Raspberry Pi Foundation

Raspberry Pi Compute Module
From Raspberry Pi Foundation:
The compute module contains the guts of a Raspberry Pi (the BCM2835 processor and 512Mbyte of RAM) as well as a 4Gbyte eMMC Flash device (which is the equivalent of the SD card in the Pi). This is all integrated on to a small 67.6x30mm board which fits into a standard DDR2 SODIMM connector (the same type of connector as used for laptop memory*). The Flash memory is connected directly to the processor on the board, but the remaining processor interfaces are available to the user via the connector pins. You get the full flexibility of the BCM2835 SoC (which means that many more GPIOs and interfaces are available as compared to the Raspberry Pi), and designing the module into a custom system should be relatively straightforward as we've put all the tricky bits onto the module itself.
So what you are seeing here is a Raspberry Pi shrunk down to fit on a SODIMM with onboard memory, whose connectors you can customise for your own needs.
The Compute Module is primarily designed for those who are going to create their own PCB. However, we are also launching something called the Compute Module IO Board to help designers get started.
Submitted on 04/03/14, 10:33 AM | Click Here for the full article: MinnowBoard

$99 MinnowBoard MAX With Intel Bay Trail-I SoC
From MinnowBoard:
MinnowBoard MAX is another open hardware embedded board we've developed to serve the needs of both the professional developer and hacker/maker community. Based on Intel's new Atom Bay Trail SoC platform, it offers a new generation of performance and features, but remains petite in size and cost.
Our entry-level SKU will be $99 MSRP, with additional board configuration options to be made available. All models will include 64-bit processors, USB 3.0, and Intel HD graphics with open source accelerated drivers for Linux, to just name a few of the new features!
$99 MSRP: E3815 (single-core, 1.46 GHz), 1GB
$129 MSRP: E3825 (dual-core, 1.33 GHz), 2GB

HDMI (micro HDMI connector)

1 – Micro SD SDIO
1 – SATA2 3Gb/sec
1 – USB 3.0 (host)
1 – USB 2.0 (host)
1 – Serial debug via FTDI cable (sold separately)
10/100/1000 Ethernet
The low-speed expansion port is a 2×13 (26-pin) male 0.1″ pin header.
SPI, I2C, I2S Audio, 2x UARTs (TTL-level), 8x GPIO (2x supporting PWM), +5V, GND
The high-speed expansion port is a 60-pin, high-density connector.
1x PCIe Gen 2.0 Lane, 1x SATA2 3Gb/sec, 1x USB 2.0 host, I2C, GPIO, JTAG, +5V, GND
Submitted on 03/28/14, 05:39 PM | Click Here for the full article: Jeff Clune

Evolving Soft Robots With Multiple Materials
From Evolving AI Lab:
Here we evolve the bodies of soft robots made of multiple materials (muscle, bone, & support tissue) to move quickly. Evolution produces a diverse array of fun, wacky, interesting, but ultimately functional soft robots. Enjoy! (full paper)
Submitted on 03/24/14, 08:03 AM | Click Here for the full article: Vimeo

Flexible Muscle-Based Locomotion for Bipedal Creatures
From John Goatstream's Vimeo Videos:
We present a muscle-based control method for simulated bipeds in which both the muscle routing and control parameters are optimized. This yields a generic locomotion control method that supports a variety of bipedal creatures. All actuation forces are the result of 3D simulated muscles, and a model of neural delay is included for all feedback paths. As a result, our controllers generate torque patterns that incorporate biomechanical constraints. The synthesized controllers find different gaits based on target speed, can cope with uneven terrain and external perturbations, and can steer to target directions... (full paper) (follow up videos)
Submitted on 03/20/14, 01:37 AM | Click Here for the full article: DARPA

DARPA Begins Phase One of VTOL X-Plane Program
From DARPA:
DARPA tasks four companies with designing new aircraft to revolutionize vertical takeoff and landing (VTOL) flight capabilities.
For generations, new designs for vertical takeoff and landing aircraft have remained unable to increase top speed without sacrificing range, efficiency or the ability to do useful work. DARPA's VTOL Experimental Plane (VTOL X-Plane) program seeks to overcome these challenges through innovative cross-pollination between the fixed-wing and rotary-wing worlds, to enable radical improvements in vertical and cruise flight capabilities. In an important step toward that goal, DARPA has awarded prime contracts for Phase 1 of VTOL X-Plane to four companies:
Aurora Flight Sciences Corporation
The Boeing Company
Karem Aircraft, Inc.
Sikorsky Aircraft Corporation
"We were looking for different approaches to solve this extremely challenging problem, and we got them," said Ashish Bagai, DARPA program manager. "The proposals we've chosen aim to create new technologies and incorporate existing ones that VTOL designs so far have not succeeded in developing. We're eager to see if the performers can integrate their ideas into designs that could potentially achieve the performance goals we've set."
VTOL X-Plane seeks to develop a technology demonstrator that could:
Achieve a top sustained flight speed of 300 kt-400 kt
Raise aircraft hover efficiency from 60 percent to at least 75 percent
Present a more favorable cruise lift-to-drag ratio of at least 10, up from 5-6
Carry a useful load of at least 40 percent of the vehicle's projected gross weight of 10,000-12,000 pounds
All four winning companies proposed designs for unmanned vehicles, but the technologies that VTOL X-Plane intends to develop could apply equally well to manned aircraft. Another common element among the designs is that they all incorporate multipurpose technologies to varying degrees. Multipurpose technologies decrease the number of systems in a vehicle and its overall mechanical complexity. Multipurpose technologies also use space and weight more efficiently to improve performance and enable new and improved capabilities.
The next major milestone for VTOL X-Plane is scheduled for late 2015, when the four performers are required to submit preliminary designs. At that point, DARPA plans to review the designs to decide which to build as a technology demonstrator, with the goal of performing flight tests in the 2017-18 timeframe.
Featured Hot Product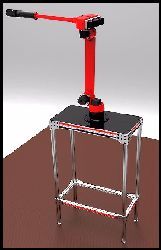 The iM18-Arm is a low cost industrial 4-6 DOF robotic arm. This arm is great for small shops and educators. Can be used to accomplish pick and place or machine load/unload. Teach motion analysis, gearing, drive systems and control systems. New features: • Stepper motors will now be 0.225° per step. • Closed loop stepper motor system, absolute position feedback. • Arm joints have limit and home switches • Universal end-effector mount • All arm joints use slew rings • Control pendent • LCD Display of machine status • So the arm can be a head above the rest an 8" riser is available • New Freescale Vybrid core processor • Intelligent dual channel stepper motor control card (Tower™ System based) • Optional Pneumatic valve control card • IP54 Electronics Enclosure • 6-Slot Tower™ System • Complete 3D STEP file supplied for motion analyses and modeling (For Educators) • Units are all aluminum construction with some non-metallic end-effectors