Hot Stories
Submitted on 12/04/13, 08:51 AM | Click Here for the full article: New York Times

Google Puts Money on Robots, Using the Man Behind Android
New York Times:
Over the last half-year, Google has quietly acquired seven technology companies in an effort to create a new generation of robots. And the engineer heading the effort is Andy Rubin, the man who built Google's Android software into the world's dominant force in smartphones.... (full article)
Submitted on 12/01/13, 11:44 AM | Click Here for the full article: Original Paper

Dynamic Probabilistic Volumetric Models
From Ali Osman Ulusoy, Octavian Biris, Joseph Mundy of Brown University:
This paper presents a probabilistic volumetric frame- work for image based modeling of general dynamic 3-d scenes. The framework is targeted towards high quality modeling of complex scenes evolving over thousands of frames. Extensive storage and computational resources are required in processing large scale space-time (4-d) data. Existing methods typically store separate 3-d models at each time step and do not address such limitations. A novel 4-d representation is proposed that adaptively subdivides in space and time to explain the appearance of 3-d dynamic surfaces. This representation is shown to achieve compres- sion of 4-d data and provide efficient spatio-temporal pro- cessing. Theadvancesoftheproposedframeworkisdemon- strated on standard datasets using free-viewpoint video and 3-d tracking applications.... (full paper)
Submitted on 11/22/13, 10:04 AM | Click Here for the full article: Adafruit

Trainable Arduiono Arm
Inspired by the Baxter robot, this arm can be trained to move with your own hands. Once the train button is pressed, you move the arm and gripper as needed while the Arduino stores the positions in EEPROM. After that the arm will replay the motion as needed.
Youtube channel
Source on Github
Additional projects
Submitted on 11/18/13, 10:19 AM | Click Here for the full article: Hacker News

PrimeSense Reportedly Aquired By Apple
According to AllThingsD Apple is in the process of buying PrimeSense. PrimeSense is the company that developed and licensed the hardware and chip design used in the original Kinect. This could have an effect on several low cost depth cameras including the ASUS Xtion which uses PrimeSense hardware or the $200 developer camera sold directly from PrimeSense.
Their online store is still open but who know for how long.
Submitted on 11/15/13, 09:55 AM | Click Here for the full article: IEEE Spectrum

Triquad
IEEE Spectrum:
As cool as quadrotors are, in most cases they're simply not as good as helicopters. Because of the way they're designed (with four small rotors instead of one big one), they're less powerful, less efficient, and less maneuverable. The power and efficiency issues come from the fact that one big rotor generates more lift per aircraft footprint than four small rotors, and as for maneuverability, a helicopter that can alter rotor pitch instantly will always outmaneuver a quadrotor that can only control blade speed. Seriously, try doing this with a quadrotor.
So, the thing that quadrotors have going for them is that they're simple. Helicopters have complex main rotor heads, with shafts and bearings and linkages all over the place, while quadrotors just have four motors and that's it. The University of Queensland researchers came up with a "Y4" configuration that aims to take all the good bits of helicopters and make them as simple as quadrotors. I'm just going to start calling this new design a triquad. Keep in mind that this is still a quadrotor: it just had things shifted around a little bit.
Almost all of the triquad's lift comes from its big main fixed-pitch rotor, located at the center of the "Y" (pictured below). The three little fixed-pitch rotors in the "Y" configuration are angled (at a fixed 45 degrees) to provide counter-torque (which they do slightly more efficiently than a helicopter tail rotor) along with pitch and roll control. Here's how the control works... cont'd at IEEE Spectrum
Follow up discussions:
Submitted on 11/11/13, 12:07 PM | Click Here for the full article: Robohub

Complete videos from the IROS 2013 workshop: "Understanding Robotics and Public Opinion Workshop From IROS 2013"
Robohub.org article with all videos or straight youtube playlist link.
Submitted on 11/07/13, 01:47 PM | Click Here for the full article: littleBits

littleBits
littleBits makes an opensource library of electronic modules that snap together with tiny magnets for prototyping, learning, and fun.
What is littleBits? from littleBits on Vimeo.
Submitted on 11/05/13, 10:11 AM | Click Here for the full article: HiBot

New Video of ACM-R5H Snake Robot
The new ACM-R5H swimming in a new pool. It is fully customizable in its colors (fins and body) and in the electronics that may be fitted in the front and rear unit.
The robot length can be also easily changed by adding or removing units, in this case it is a version of 6 active joints.
Featured Hot Product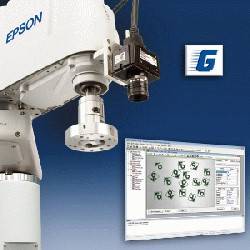 EPSON Robots is the global leader in PC controlled precision factory automation, with an installed base of over 28,000 robots and a product line of hundreds of models of easy to use SCARA, Cartesian and 6 axis robots based on a common PC based controls platform. EPSON offers powerful options such as Vision Guide, Conveyor Tracking, .Net Connectivity, GUI Builder, Force Sensing, DeviceNet, Profibus, EtherNet/IP, Ethernet I/O and more. Building on a 30 year heritage, EPSON Robots delivers robots for precision assembly and material handling applications in the automotive, medical device, appliance, biotechnology, consumer product, electronics, food, pharmaceutical, plastics, semiconductor, and other industries. For more information, visit us at www.epsonrobots.com , or contact us directly at +1.562.290.5910