From Festo Bionic:
With the bionic butterflies, for the first time Festo combines the ultralight construction of artificial insects with collision-free flying behaviour in a collective. For coordination purposes, the eMotionButterflies make use of a guidance and monitoring system, which could be used in the networked factory of the future... (additional info)
Like their natural role models, the BionicANTs work together under clear rules. They communicate with each other and coordinate their actions and movements among each other. The artificial ants thus demonstrate how autonomous individual components can solve a complex task together working as an overall networked system... (additional info)
Records 1 to 1 of 1
Featured Product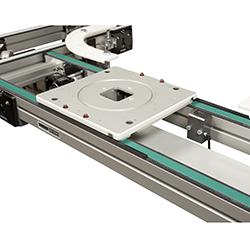 Dorner's 2200 Series Precision Move Pallet Systems feature the latest advancements in pallet traffic management. A unique pin tracking system guides pallets through merges and curves while maintaining product orientation. The fast belt change capability increases efficiency and reduces downtime in assembly automation processes. They are available in lengths up to 25 ft., can handle loads up to 500 lbs. and travel at speeds up to 114 ft/min.