PRENAVs drones take photographs from precise locations in close proximity to structures, and those photos are then used to build an accurate 3D reconstruction of the asset.

Nathan Schuett | PreNav
Bay area startup, PRENAV (www.prenav.com), releases Hello World video announcing its commercial drone system that is so precise it can write letters and draw shapes in the sky. The level of control displayed is not possible with GPS and has only been seen in controlled environments like research labs with expensive motion capture systems.
What is the difference of PRENAV's precision system compared to other industrial inspection drones?
There are three key differences between the PRENAV system and other industrial inspection drones:
The capability for automated flight right next to structures makes the PRENAV system accessible to operators who aren't highly skilled RC pilots. GPS isn't reliable or accurate enough for close proximity infrastructure inspection, so the other industrial inspection drones on the market today are all hand-flown and require hundreds of hours of training for the pilot. On the other hand, PRENAV's system is fully automated, meaning an existing industry of climbers, inspectors, and facilities managers can use the technology."
The PRENAV system gives industrial inspection customers the data they need -- an accurate, detailed 3D reconstruction of the structure that can be examined and measured. Other industrial inspection drones that are manually piloted struggle with building a 3D reconstruction because it's difficult for a human pilot to get full coverage of the tower at the proximity that's required. So what ends up being delivered to customers by competing solutions is usually a report that consists solely of images and video that aren't detailed enough, and have no means to measure components and damaged areas on the structure.
PRENAV delivers a complete workflow, from the flight all the way through image processing and analysis, making it easy for customers to operate the system and get the data they need. Other solutions often sell the drone without the necessary image processing software, leaving the customer to figure out the best way to integrate with 3rd party software.
How are the precision shapes and letters captured in the released announcement video?
The Hello World video highlights the system's precision by leveraging LED lights on the drone and turning them on/off at specific pre-mapped locations, drawing shapes and letters in the sky. A long exposure photo captures each location the drone visits, and is grouped with other photo frames to create animations and messages.
How does the system work so precisely?
PRENAV's drones take photographs from precise locations in close proximity to structures, and those photos are then used to build an accurate 3D reconstruction of the asset. The system consists of a drone, a guidance robot on the ground, and software to plan the mission and analyze the data. The guidance robot on the ground first scans a structure, and then guides the drone around the structure with centimeter-level accuracy to take the necessary photos. The photos are then synced to PRENAV's cloud processing engine where they are assembled into a 3D reconstruction and analyzed.
How much of a cost premium does your system carry over a standard drone configuration?
Our system will be competitively priced with other commercial drone systems. Pricing will be announced when the product is released in 2016.
What are the main challenges facing industrial inspection that PRENAV's system addresses?
It is time-consuming, expensive, and dangerous to climb industrial structures like towers and smoke stacks. Further, it is difficult to get consistently good imagery and complete coverage of the structures by climbing or using hand-flown drones. The PRENAV system automates the entire mission, ensuring that the right photos are taken every time, and that an accurate 3D reconstruction is built and delivered. PRENAV enables customers to inspect nuts, bolts, serial numbers, cabling, and damaged areas, as well as take measurements of key components.
What are some of the main applications that the system is designed to carry out?
PRENAV's initial applications include auditing and inspecting cell phone towers and wind turbines. Additionally, the technology can be used on other industrial structures such as smokestacks, flare stacks, dams, bridges, boilers, and oil rigs.
When will the system be commercially available?
We are targeting 2016 for our product launch.
How much has PRENAV raised to date? Key investors?
$1.2M in seed funding from from Pejman Mar Ventures, Toivo Annus, Drone.VC, Michael Antonov, and others.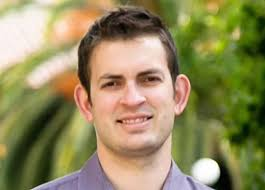 About Nathan Schuett
Nathan Schuett is the founder and CEO of PreNav, a startup developing precision drone systems to inspect industrial infrastructure and produce detailed imagery. PreNav's technology is focused on automating flight in close proximity to industrial structures, and using precise positioning information to build engineering-grade 3D reconstructions of the assets. Before founding PreNav, Nathan managed robotics and computer vision projects at The Society for Creative Research, delivering custom solutions for Google and other clients. He also spent many years in the gaming industry working for Lolapps, and contracting for EA. He graduated from Stanford University with a degree in computer music.
The content & opinions in this article are the author's and do not necessarily represent the views of RoboticsTomorrow
---
Comments (0)
This post does not have any comments. Be the first to leave a comment below.
---
Post A Comment
You must be logged in before you can post a comment. Login now.
Featured Product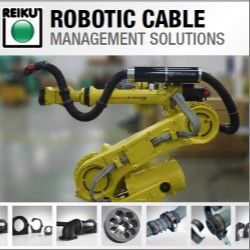 REIKU's Cable Saver™ Solution eliminates downtime, loss of revenue, expensive cable and hose replacement costs, maintenance labor costs. It's available in three sizes 36, 52 and 70 mm. All of the robots cables and hoses are protected when routed through the Cable Saver™ corrugated tubing.The Cable Saver™ uses a spring retraction system housed inside the Energy Tube™ to keep this service loop out of harms way in safe location at the rear of the Robot when not required. The Cable Saver™ is a COMPLETE solution for any make or model of robot. It installs quickly-on either side of the robot and has been tested to resist over 15 million repetitive cycles. REIKU is committed to providing the most modular, effective options for ensuring your robotic components operate without downtime due to cable management. www.CableSaver.com