New Unmanned Surface Vehicle, Arrow UAV, and Ground Control System will be on display
Hollywood, MD - July 31, 2012 -- NEANY Inc., an industry leader in providing time-sensitive, tactical response solutions, is pleased to be an exhibitor this year at AUVSI's Unmanned Systems North America 2012 on August 6-9 in Las Vegas, NV. Attendees to the conference will be the first to witness NEANY's newest system; an unmanned surface vehicle equipped with an ARES 7.62mm Externally Powered Gun (EPG), Precision Remotes' TRAP T-360 Ultra-light Weapon Mount, and i2Tech's i200L camera. NEANY will also exhibit its flagship UAS the Arrow and signature Ground Control Station, and have information on hand for the Sky Kite, a new and versatile lighter-than-air vehicle used for surveillance.

NEANY is a minority owned, SBA 8(a) certified Research, Design, Test and Evaluation (RDT&E) engineering firm specializing in Unmanned Aerial Systems (UAS) with integrated payloads supporting Intelligence, Surveillance, and Reconnaissance (ISR) missions. These include homeland defense and security, border and port patrol, urban mapping, counter-narcotics applications, and disaster preparedness. NEANY has unprecedented expertise in supporting in-theater operations that includes cradle-to-grave logistics with almost 50% of our personnel currently forward deployed.
The NEANY team is dedicated to creating the next generation of affordable unmanned solutions designed to support the war-fighter, and protect and secure our homeland. In today's lean fiscal environment and looming defense sequestration, NEANY is confident in its ability to offer cost effective unmanned solutions capable of supporting national and international defense applications.
NEANY engineers will be on hand at AUVSI's Unmanned Systems North America 2012, Booth #3754.
For more information on the NEANY advantage please visit www.neanyinc.com.
For more information on AUVSI please visit www.auvsishow.org.
Featured Product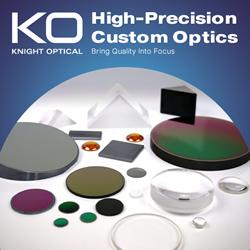 Knight Optical (KO) has provided discerning engineers, designers, and the like from the automation sector with dependable, premium-quality optics for over three decades. Throughout this time, the leading supplier has helped refine the precision of some of the world's most innovative technologies and partnered with a wide range of companies throughout the industry. In this article, Automation talks to KO about its involvement in the sector and, ultimately, finds out more about how the optical brand can help your supply chain process.